Material Design Made to Standardize Android User Experience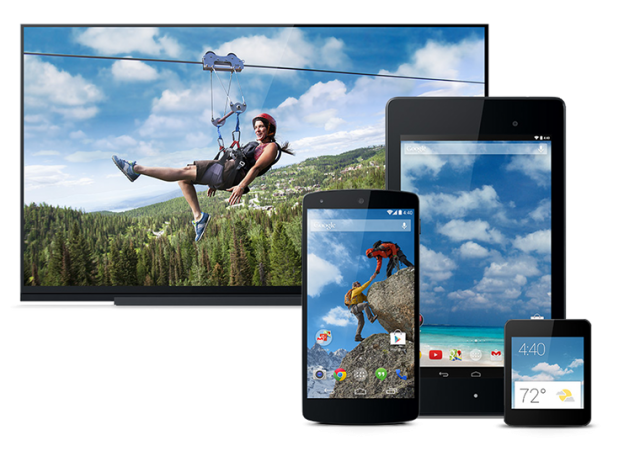 The keynote at Google's (NASDAQ:GOOG) (NASDAQ:GOOGL) I/O developers conference introduced the concept of Material Design, a design language for Android devices that has actually been in the works for years, according to TechCrunch. The comprehensive design for the user interface shows up across the entire family of Android devices, and represents a departure from the interface's past conventions, plus Google's answer to design trends popularized by devices by Apple (NASDAQ:AAPL) and Microsoft (NASDAQ:MSFT).
TechCrunch's Darrell Etherington spoke with Jon Wiley, Google's principal designer for search and maps. Wiley said that the Material Design concept represents a new, comprehensive way of thinking about how users interact with a variety of high-resolution, touchscreen devices, with a wide array of different screen sizes. "They have all the expectations that they have with beautiful, functional, useful design in the physical world that we've had for a very long time, they're bringing those expectations to the software that they're interacting with because of the nature of the medium."
Wiley describes the process of designing the interface to mimic the real-world counterparts to the various parts and functions of the interface. The interface plays by the basic rules of physics that users expect, based upon their experiences in the real world, and then figures out where to diverge from them in order to create an interface that users will learn how to interact with and recognize across devices. "What's nice about software is that it doesn't have to be completely constrained by real-world physics, but you do want to set up an environment where it's internally consistent."
Posting a video demo of the new design language on YouTube, Google wrote: "Design is the art of considered creation. Our goal is to satisfy the diverse spectrum of human needs. As those needs evolve, so too must our designs, practices, and philosophies. We challenged ourselves to create a visual language for our users that synthesizes the classic principles of good design with the innovation and possibility of technology and science. A material metaphor is the unifying theory of a rationalized space and a system of motion. Our material is grounded in tactile reality, inspired by our study of paper and ink, yet open to imagination and magic. This is material design."
The idea is to create a set of rules so that users will be able to learn and apply behaviors across different apps and devices, and easily learn how to use the interface. One of the metaphors for Material Design was paper and ink, but Wiley says that the design also considered the metaphor of film or television editing, "where each interaction is a series of jump cuts and this is amplified on touchscreen devices." Material Design considers the transitions between tasks and apps, and aims to "convey a sense of continuity" even within those transitions. 
VentureBeat asked several designers to comment on the significance of Material Design, and Kristy Tillman says that the design language seems like "a post-rationalization of current design trends," which she adds "isn't a bad thing." Tillman also says that Material Design represents an effort by Google to standardize and control the user experience across a variety of devices.
"You can tell Google is trying to get ahead of all of the screen sizes they have going now and provide some real structure. It seems they really tried to set up a fail proof way to design around all of the screen sizes, from the desktop experience to Glass to the watch. The effort is extremely expressive and is obviously about controlling the experience. Experience as brand. This is something Apple has always been better at. Google has put in a real effort to achieve something similar on a much more open platform, which is an ambitious but very necessary goal."
Another designer, Sacha Greif, told VentureBeat that Google's guidelines with Material Design give direction to designers and developers, "pushing their numerous apps in the same consistent direction," but still allow them freedom. Since so much of users' time is spent in apps, it's important to get app developers to switch to the new design language. With Material Design, Greif sees Google "stepping up" its design game, and since it's often the design of an interface that makes a user's experience with it unique and memorable, that's a good move to make when pushing Android to more devices than ever before.
The animations and transitions, particularly, show the emphasis that Google is placing on design. Even though the changes to Google's current interface aren't huge, they represent a new level of care and attention going toward a user's experience with an Android device. The shift is also a good move toward making Android an attractive platform for developers who typically go to iOS first, and offering new tools for developers to create well-designed, usable apps could help Android compete against iOS as the premier platform for developers.
More From Wall St. Cheat Sheet:
Want more great content like this? Sign up here to receive the best of Cheat Sheet delivered daily. No spam; just tailored content straight to your inbox.