Mayer Is Looking for More Engineering Talent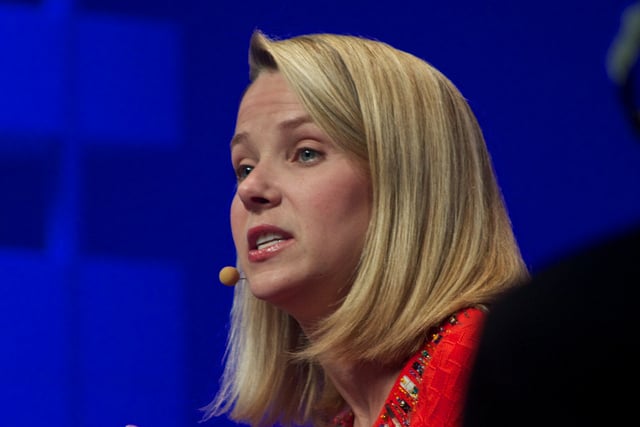 Yahoo (NASDAQ:YHOO) CEO Marissa Mayer is going on a hiring spree for Yahoo Labs, the company's research and development unit. Mayer has hired 30 researchers already this year and plans to add 20 more before the year's end, she said in an interview with Bloomberg.
Since taking the company's helm, Mayer has been acquiring start-ups left and right to scoop up Silicon Valley's biggest talents, particularly in the arena of mobile tech, in which Yahoo's fallen behind rivals Facebook (NASDAQ:FB) and Google (NASDAQ:GOOG). Yahoo has cut back on research and development for the last four years, and Mayer believes the key to the company's growth is to rejuvenate its work in emerging technologies.
Yahoo Labs was started in 2005 but faced heavy cutbacks under former CEO Scott Thompson. "The lab is still here — it's been reduced in size," Mayer said to Bloomberg. She also told the publication that the company is investing "heavily to build it back up." Job openings for Yahoo Labs listed on Yahoo's website include a research scientist position with a specialty in mobile, a research scientist with a specialty in pricing and marketplaces, and a senior principal scientist in personalization.
Mayer's strategy of scooping up start-ups to mine them for engineering talent has been criticized by some who disparagingly refer to the tactic as building a "franken-Yahoo," or a company with many parts that don't work well together. Mayer has purchased 18 companies during her time as CEO, and a rumored interest in e-commerce analysis app Lexity would be her 19th. Lexity's founder, Amit Kumar, is a former employee of Yahoo, so the interest in that company seems to confirm Mayer's talent-buying strategy.
According to Bloomberg, some recent projects Yahoo Labs has been working on include a search engine that asks for more context about a user's search query to provide better results and a project that analyzes political opinions through a user's Twitter posts. In order to catch up with its rivals, Yahoo poured 18 percent of its budget into research and development last year, which was more than Google's 14 percent.
Mayer seems to be confident in her talent-buying strategy, but only time will tell if employing the best and brightest in Silicon Valley will be enough to bring Yahoo up to speed with its competitors.
Follow Jacqueline on Twitter @Jacqui_WSCS