Mega Frenzy: A Day in the Life of Social Media
Through Saxum, here is a compilation of the world's most popular social media outlets and their traffic, account openings, searches, and the user-ship they receive within 24 hours.
Get ready to be blown away:
Facebook
According to Saxum, Wednesday afternoons have the highest traffic for Facebook (NASDAQ:FB), and 23 percent of these users check their feed more than 5 times a day. However, the Huffington Post reports that of the boasted 500+ million users, 10 percent of account holders are not humans at all — but brands, objects, and, most of all, pets, instead.
Twitter
Monday and Thursday afternoons are the prime time to tweet and search for new hashtags. The top 5 most followed accounts are Justin Bieber, Lady Gaga, Katy Perry, Barack Obama, and Rihanna.
LinkedIn
Tuesday and Thursday afternoons are the most popular time to check up on your online resume on LinkedIn (NYSE:LNKD). With 225 million users in the U.S., the job networking site boasts two new profile openings every second, according to Bloomberg.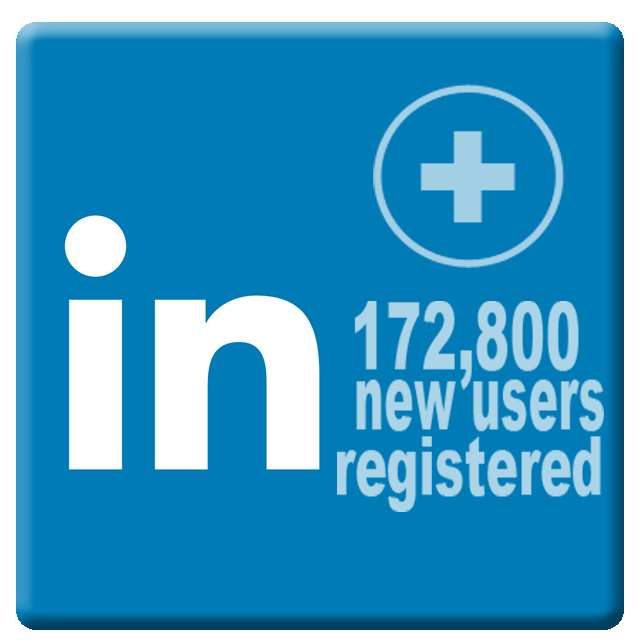 Pinterest
Users like to start off their weekend en masse with some Saturday morning pinning. As compiled by Digital Marketing Ramblings, as of June 2013, the user with the most followers is Joy Cho, while the most followed brand is Nordstrom (NYSE:JWN), and the most followed board is "Delicious".
Vine
Users love checking their video feed over the entire course of the weekend. As revealed by CNBC, when Vine videos are shared on twitter, they are all collected together on a website – which is not Vine.com, but Vine.co. Why? Because Amazon (NASDAQ:AMZN) owns the former domain name, and wouldn't sell it for less than $500,000. Among popular Vine users, ranking #1 is actor and comedian Will Sasso.
Google +
Google + users appear to enjoy checking their group circles in the later morning on any given day. NDTV Gadgets reports that after its release as "the new social network" in the summer of 2011, Google+ received thousands of account openings from curious new users; however, the hype was short-lived, with many critics pointing out that Google+ had little — if anything — new to offer to compete with the mega-network, Facebook. However in the past couple of month Google's (NASDAQ:GOOG) social network has seen a return of user flow, and has been ranking as the #2 social network, leaving Twitter  in third place. A reason behind the unexpected growth is due to Google's network spread — once you're logged in, you've also just opened access to YouTube, Gmail, Search and Maps.
YouTube
Seventy percent of YouTube's traffic comes from outside the U.S., and its mobile options makes up for more than 25 percent of overall viewership, with 1 billion views a day.
Tumblr
Tumblr was recently bought out by Yahoo (NASDAQ:YHOO) in an effort to rejuvenate the Internet corporation.
SlideShare
SlideShare has been rated the best and most used online presentation sharing device on the internet, according to The New Web, and it receives approximately 30 million views each month.
Instagram
This photo editing and sharing device has many celebrities hooked, but according to Huffington Post Tech, some of the must-see accounts, in terms of quality and artistic photography, are NASA Goddard (@nasagoddard), Carmyn Joy (@carmynjoy), Ana Barros (@anasbarros) Patricia Abi-Rached (@patrciaar), and Robin May (@robinmay), among many others.
Emails
According to Convince & Convert, 21 percent of emails users mark incoming emails as spam, even if they're well aware that it isn't, and 17 percent of Americans create a new email every six months.
Google
On July 4th, the hottest Google searches were Barry Manilow and Cher — you can check out the daily top searches on Google Trends. Each month Google receives 1.17 billion unique searches, with 192 million unique monthly visitors.