Micron Paints a Target on Intel's Back With New Processor Technology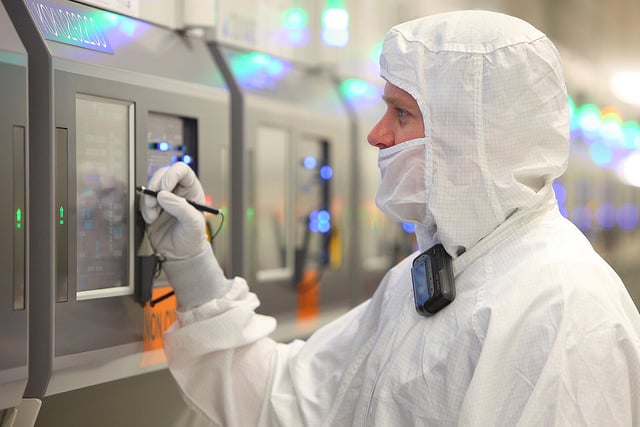 Micron Technology (NASDAQ:MU) introduced new technology Monday that has the potential to threaten Intel's (NASDAQ:INTC) already struggling business.
According to Forbes, the tech giant unveiled new processor architecture at the Supercomputing Conference this week that is purposed to bolster Graph Search's performance along with that of other compute-intensive applications. Micron is only now just disclosing the new architecture as it shows it at a conference for the most advanced computing technology, meaning it won't immediately disrupt Intel's business, but advanced computing architecture has been known to trickle down to mainstream PCs at a surprising speed, and that is where Intel may have a problem.
Unfortunately for Intel, its PC business is not what it used to be, and the company now has to rely significantly on servers to maintain current revenues and keep investors happy. The Santa Clara, California-based chipmaker has enjoyed a strong server market thanks to the increase of massive data centers, but if that market shifts from Intel processors to some other technology, Intel could be in a lot of trouble — and it probably knows it.
Breaking into the market with new technology is appealing to Micron because major companies like Google (NASDAQ:GOOG), Amazon (NASDAQ:AMZN), and Microsoft (NASDAQ:MSFT) all have search engines that rely on servers in their data centers. Forbes explains that Graph Search is the algorithm that manages "Big Data," and if Micron's new Automata Processor could outperform Intel's servers, the company would immediately have a host of big-name clients.
Micron reportedly compares the Automata's performance to a $20,000 array of conventional Xeon-based servers running a standard test called "NP Hard." The technology was able to prove its ability in a series of tests when Automata executed the problem for a range of complexities broader than those that the Xeon array could conquer, and it did so in a timely manner. So, should Intel be worried? Probably. Is is already worried? Probably — but at least it has some time to work with. The world may some day have data centers that exclusively use Automata processors for search and ARM processors for other problems, but luckily for Intel, that day is not yet today.
To make matters worse, though, Forbes highlights that Facebook (NASDAQ:FB) has already begun supporting Open Computing Architecture, and the company recognizes that new technology could replace Intel processors with architecture that saves cost and power. If the big tech giants are already priming themselves a shift, things could go from bad to worse for Intel very soon — and it's now up to the company to respond.
Don't Miss: Cloud Service Competition: IBM Attacks Amazon.