Microsoft Can Help You Make Any Surface a Touchscreen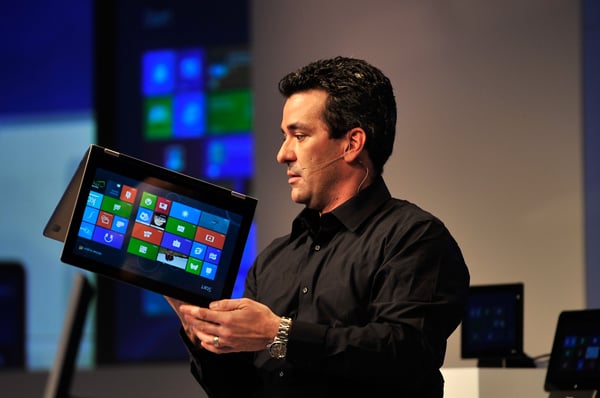 Technology developed by Microsoft (NASDAQ:MSFT) and Seattle-based startup Ubi that can turn any surface into an interactive touchscreen is now out of beta and available for purchase by the general public.
Ubi founder and CEO Anup Chathoth announced the product's availability to the public in a blog post, saying: "At Ubi Interactive, it is our goal to make the world a more interactive place. We want human collaboration and information to be just one finger touch away, no matter where you are. By making it possible to turn any surface into a touch screen, we eliminate the need for screen hardware and thereby reduce the cost and extend the possibilities of enabling interactive displays in places where they were not previously feasible — such as on walls in public spaces."
The system works by using a projector to shine a screen onto a surface. A Microsoft Kinect sensor attached to the projector picks up a user's movements, allowing that person to perform various multitouch gestures in the same manner as on a tablet screen or smartphone. All users need to run the system is a projector, the Ubi software (which runs between $149 and $1499), and a Windows Kinect sensor (which costs $250), according to a report from CNET.
Chathoth mentioned both a construction company and an architecture show at California Polytechnic State University that had great success utilizing the technology, and outlined more possible uses for the product. He said in the company's blog post that Ubi could make it "possible for teachers to instruct classes in an interactive lecture hall" or allow shoppers to "access product information on a store's window front, even after hours," among other possibilities.
Microsoft has been making further improvements to its Kinect sensor, in part to prepare for the release of the new Xbox One this fall. The company's design team has developed its own chip for the sensor, which utilizes military technology that can detect objects by bouncing photons off them. The new Kinect will be much more sensitive and accurate than current models, with the ability to detect movements as subtle as finger motions or facial expressions. The new Kinect chips could also be used in Ubi's technology to make the touchscreens more accurate, as well.
Follow Jacqueline on Twitter @Jacqui_WSCS