Microsoft Doubles OneDrive Free Storage to Take on Apple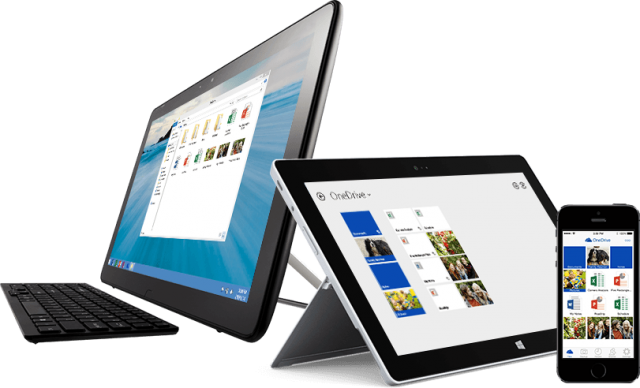 Microsoft (NASDAQ:MSFT) is getting serious about the impending cloud storage war with Apple (NASDAQ:AAPL) and Google (NASDAQ:GOOG) (NASDAQ:GOOGL). In a post on the OneDrive Blog, Microsoft made an announcement that the company is making three major changes to the pricing structure of its cloud storage service, aggressively taking aim at Google Drive and Apple's upcoming iCloud storage services and other cloud storage services, like Dropbox and Box. Here are the three changes that Microsoft is making to its OneDrive storage capacity and pricing structure.
1. Free storage will be increased to 15 GB
Microsoft announced that it will more than double free storage, upping it to 15 GB from 7 GB and matching the free storage offered by Google Drive. This storage is accessible to users via OneDrive apps for iOS, Android, and Windows. It's also available on the web. Like Dropbox and the upcoming iCloud Drive, it can store all types of files, and Microsoft says that the change will accommodate the needs of users who store increasing numbers of files, including media like photos and videos, in the cloud:
"Our data tells us that 3 out of 4 people have less than 15 GB of files stored on their PC. Factoring in what they may also have stored on other devices, we believe providing 15 GB for free right out of the gate – with no hoops to jump through — will make it much easier for people to have their documents, videos, and photos available in one place."
2. Office 365 subscriptions will now include 1 TB of storage
All tiers of subscriptions to Office 365 will include 1 TB of OneDrive storage, up from 20 GB. Office 365 Home, priced at $9.99 per month, will include 1 TB per person for up to five people. Office 365 Personal, priced at $6.99 per month, and Office 365 University, priced at $79.99 for four years, will include 1 TB. Office 365 syncs Word, PowerPoint, and Excel documents among devices, including the iPhone, iPad, Android devices, Windows devices, and the web Office apps. As announced in April, OneDrive for Business customers receive 1 TB of storage per person.
3. Storage prices will be reduced at all levels
The prices for all levels of OneDrive storage will drop approximately 70 percent. For consumers who want to use OneDrive but don't need a subscription to Office 365, prices to add storage to the existing free storage capacity have dropped. Further, 100 GB will cost $1.99 per month, down from $7.49, and 200 GB will cost $3.99 per month, down from $11.49.
The updates will take effect in the next month, with current subscribers' accounts being automatically updated. The announcement comes ahead of the anticipated launch of Apple's iCloud Drive, a cloud storage service that will allow users to store, view, and sync all types of files across Mac, iOS, and Windows. Apple says that the service will enable users to work on the same file in multiple apps, and make edits that automatically sync to all devices.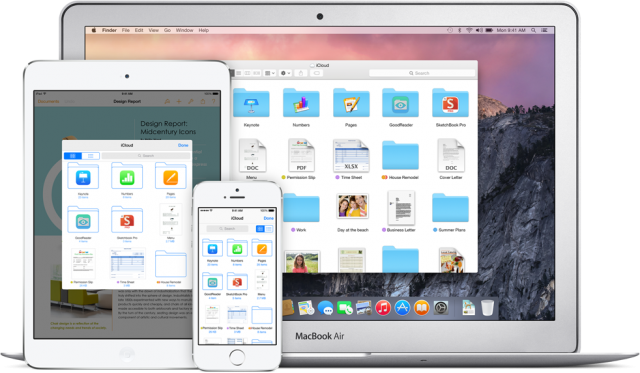 Further, 9to5Mac compares iCloud Drive to OneDrive, noting that iCloud's free storage is limited to 5 GB versus Microsoft's new 15 GB. Its 20 GB of storage on iCloud will cost $0.99 per month, and 200 GB will cost $3.99 per month, the same as in OneDrive. Ultimately, each platform is well-integrated into its manufacturer's ecosystem, with iCloud offering the most seamless experience for consumers already using an assortment of Apple products, and OneDrive giving the best experience to users of Microsoft hardware, including the Xbox, Windows Phone, and Windows 8. Since iCloud is already integrated into the Apple ecosystem, iCloud Drive prices essentially combine the cloud storage service with existing iCloud services, including its new photo library features.
But as 9to5Mac points out, Microsoft is marketing OneDrive to users of competing hardware, and OneDrive offers a dedicated application for accessing files on iOS in addition to the Office apps. Microsoft was late to offer cloud storage, and its service has attracted fewer users than competitors like Dropbox and Google. Microsoft now matches Google's offering of 15 GB of free storage. Its 100 GB of Google Drive storage costs $1.99 per month, while 1 TB costs $9.99. Drobox offers 2 GB of free storage, while Box offers 10 GB. Dropbox charges $9.99 per month for 100 GB. Even though it offers competitive pricing on storage, Microsoft is likely hoping that its OneDrive's integration with Office apps that will make the aggressive new pricing seem more valuable than the upcoming iCloud Drive or standalone services like Google Drive, Dropbox, or Box.
The plan that may see OneDrive gaining more users is the $6.99 subscription to Office 365 Personal. Since the subscription includes 1 TB of cloud storage, it's the best deal offered so far, and offers the added benefit of access to Office apps. The only storage service that has offered web productivity apps that integrate with its cloud storage is Google Drive, and the competition between Google and Microsoft centers mainly on the productivity tools that each offers in conjunction with cloud storage. Microsoft is hoping that OneDrive will win out over Google Drive — at least for frequent users of Office apps because of its productivity capabilities. Everyone can get into the game of offering more storage at lower prices, but productivity may be the name of the game, and see exclusively storage-focused players like Dropbox losing out.
In case the added value of Office integration fails to win users over, Microsoft wants to attract subscribers with more storage at lower prices. That seems to currently be the name of the game in the cloud storage competition. Microsoft's new pricing strategy makes its offerings extremely competitive, and consumers may see the cloud storage and productivity suite war really heat up once Apple launches iCloud Drive later this year.
More From Wall St. Cheat Sheet: