Microsoft, Google Look to Penetrate 'Circle of Trust'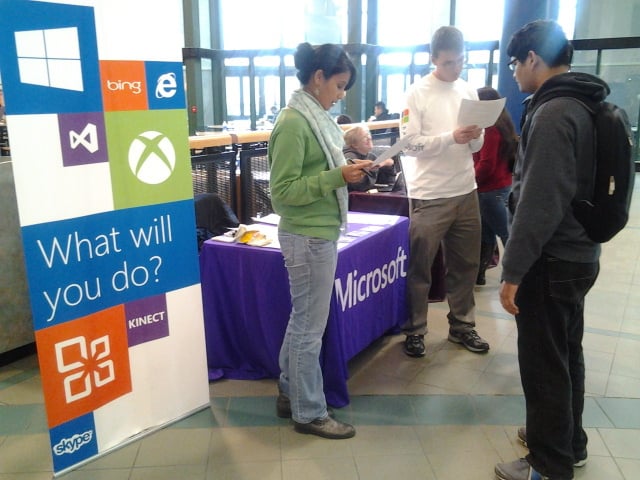 The debate over Internet privacy gets complicated when smartphone users realize how much information is sent to Microsoft (NASDAQ:MSFT) and Google (NASDAQ:GOOG) through search engines. Both use huge swaths of data in order to promote products and generate ad revenue, and the rise of smartphones has complicated the matter. In fact, Microsoft and Google are quite openly trying to determine the best way to get inside a consumer's "circle of trust."
During Advertising Week in New York through Friday in New York, tech companies are leading discussions on the latest trends in marketing. Few talks go minutes without acknowledging the rise of the mobile phone, and the fight to employ Big Data to market to consumers more effectively. On Monday's opening talks, Google's Tim Reis discussed the goal of advertisers in today's mobile-first culture.
"I think that smartphones are an underappreciated branding vehicle," Reis said. "It's a hugely personal device that is physically very close to you. These are inside that circle of trust that advertisers are trying to permeate at all times."
Reis, who is Head of Mobile Solutions at Google, said he thinks the goal of marketers is to find the best way to interact with smartphone users, an effort that has only begun. Knowingly or not, mobile users offer sites they visit location information courtesy of GPS functions, and this information is the most valuable to advertisers.
Consumers who enable GPS services, write reviews on neighborhood restaurants, and sign up for newsletters that indicate where and what their shopping preferences are give away the essential tools marketers need. In fact, search engines are doing their best to make smartphone users feel comfortable enough to offer more information. After all, the voluntary gifting of Big Data via social media is a defining factor of the mobile generation.
Microsoft's Bing search engine has nowhere near the reach of Google's, yet it has been growing market share at the expense of other search companies. Jason Dailey, Senior Director for Bing Evangelism for Microsoft, joined another Advertising Week panel to detail how much waste accumulates through modern advertising, and how to strike a balance between offering products consumers want and violating privacy.
"If you tell people what data you're collecting and what you're gonna do with it, people are more than happy to share that information," Dailey said. "It gets creepy when it starts getting sold and people who I don't have a relationship [with] all of a sudden start trying to reach out to me."
Marketers at Advertising Week are primarily concerned with getting the message across to consumers, leaving privacy issues for other departments to discuss. However, the amount of data influencing their efforts continues to mount with every search made on a mobile device or home computer. The future of a search company's reputation may rest on how they handle this precious cargo.
"I think it comes back to respecting people's information," Bing's Jason Dailey said in wrapping up the discussion. "Tell them you're collecting information, tell them what you want to do with it, and make sure you have their approval."
Don't Miss: Microsoft Will Pay You to Ditch Apple