Microsoft Should Be Afraid, Very Afraid of Google's Chromebooks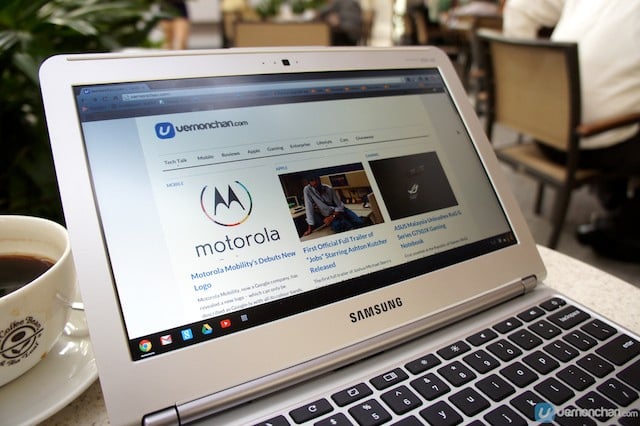 New research has shown that Microsoft (NASDAQ:MSFT) should be worried about Google's (NASDAQ:GOOG) Chromebooks, a simplified version of the laptop that essentially only accesses the Internet and costs much less than competing devices.
Recent data from NPD seen by PCMag showed that Chromebooks grew to occupy 21 percent of the business and education PC market during 2013, up from virtually nothing in 2012. Meanwhile, laptops running on Windows showed no growth between 2012 and 2013. The data showed that 1.76 million Chromebooks were sold in 2013 versus 400,000 in 2012. Chromebooks were also popular holiday gifts, according to Amazon (NASDAQ:AMZN), which said that the devices accounted for two of the three top spots for its holiday best sellers.
Overall, NPD data showed Google-powered Chromebooks accounted for 9.6 percent of total personal computing device sales through November, a major jump over the 0.2 percent share the devices held last year. Windows notebooks appeared to be the biggest losers in 2013, losing more than 8 percent of total personal computing device sales compared to the same time period last year.
Now, Samsung (SSNLF.PK) has released a new Chromebook that uses more advanced technology than previous models, making the first Chromebook that's more than just a bare-bones machine for getting online. The new model has a 1080-pixel display, Samsung's Dual Core processor, 8.5-hour battery life, a super-fast startup time, and costs only around $250. Samsung claims to be the biggest Chromebook brand in the United States.
"Since we introduced our first Chromebook in 2011, Samsung has been committed to continually developing our designs and features to meet our users' ever-changing needs, while staying true to the core Chromebook attributes of simplicity, speed and security," said Mike Abary, senior vice president of consumer IT product marketing at Samsung Electronics America, in a press release. "Samsung has been the top selling consumer Chromebook brand for the past three years and we'll continue to grow our leadership position in this space with the launch of the Chromebook 2 Series."
In September, Google released a new lineup of Chromebooks with models made by Acer and Hewlett Packard (NYSE:HPQ), as well as the first Chromebooks from Asus (ASUUY.PK) and Toshiba (TOSBF.PK). At the time, NPD said that Chromebooks occupied between 20 and 25 percent of the under-$300 PC segment. With Samsung's latest addition, it seems as though most major PC makers are ready to take the Chromebook format seriously.
Google has been continuously improving Google OS, and as computing has become more Web-based, consumers are starting to better understand how to use a laptop that doesn't have the usual preloaded programs or Microsoft Office. Many of the functions that Office is used for can be performed using Google Drive and other online apps.
As consumers have shifted to mobile for most of their computing needs, outside of the office, Web browsing is all many people need a laptop to be able to do. As we spend more money on smartphones and tablets, people are starting to realize that owning an expensive laptop is becoming unnecessary. Google has created a quality machine to provide the ability to browse the Web and perform other basic functions without breaking the bank.
More From Wall St. Cheat Sheet:
Follow Jacqueline on Twitter @Jacqui_WSCS