Microsoft Skips to Windows 10: OS for Phone, Tablet, and PC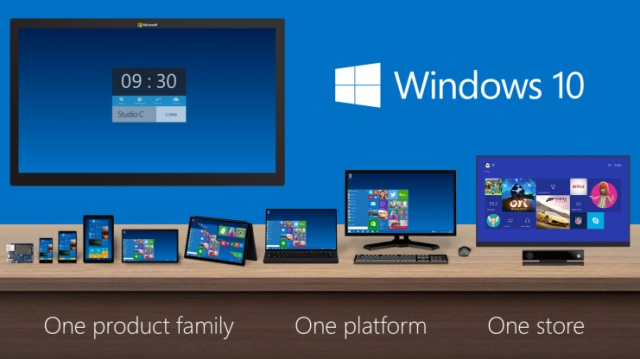 Though many of the anticipated features of Microsoft's next Windows release — including the return of the Start Menu and better integration with Windows Phone — have been leaked and discussed extensively over the past few months, one feature that no one anticipated was the name of the new operating system. Instead of following the progression from Windows 7 through Windows 8 to the expected "Windows 9," Microsoft instead skipped ahead to Windows 10, with a jump in numerals that signals a leap ahead to a Windows experience newly unified across devices.
According to live blogs of Microsoft's September 30 event by The Next Web, The Verge, and PC Advisor, Terry Myerson, Microsoft's executive vice president of operating systems, opened the event. Taking the stage in San Francisco, Myerson said that there are 1.5 billion people currently using Windows. But he noted that "It's time for a new Windows," one that is "built from the group up for a mobile-first cloud-first world." Myerson said that it wouldn't be right to call this new release Windows 9 (as the tech community and consumers alike had expected) because it's "a different product," one that will run on every Windows device, from the Windows Phone to the desktop or laptop computer.
Windows 10, Microsoft's "most comprehensive platform ever," brings "one product family, one platform, one store," as well as a unified experience for phones, tablets, and computers with a unified app store for all devices. The preview focused specifically on the new operating system's potential for enterprise customers.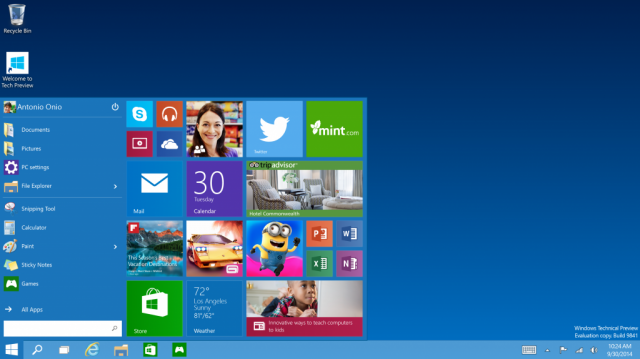 Windows 10 will have all of the features and functionality that enterprises expect, and will be compatible with all of the major tools and Windows apps that enterprises use. IT managers can manage all Windows 10 devices and customize app stores for employees to access and download apps that have been approved by their company.
Joe Belfiore, Microsot's corporate vice president of operating systems, offered a demo of an early build of Windows 10, with a focus on enterprise features. A classic-looking desktop brings back a redesigned Start Menu, which combines the basic menu of Windows 7 with the resizable Live Tiles of Windows 8. On the Windows 10 Start Menu, users can pin apps and adjust Live Tiles. The Start Menu also includes a universal search, which searches both the device and the Internet. The Start Menu also contains standard Windows software and apps, and the apps can be used in windows on the Desktop, instead of launching in full screen mode by default.
Windows 10 will put an end to the "duality" between modern apps and traditional old desktops, and combines elements of both Windows 7 and Windows 8, according to Microsoft. In the Q&A at the end of the session, it was noted that Windows 8 has a higher rate of satisfaction on touch devices, whereas Windows 7 has a higher rate of satisfaction on computers that consumers use with a mouse and keyboard. With Windows 10, it seems that Microsoft is looking to combine the strengths of the two.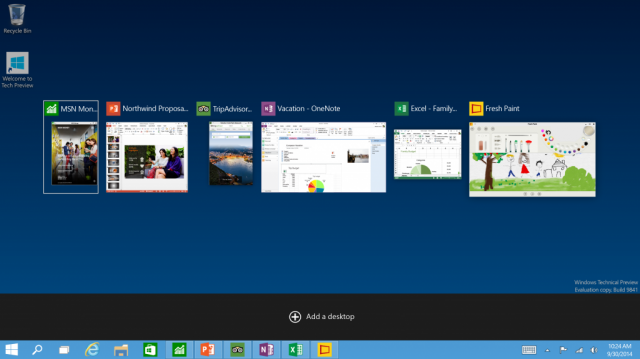 When developers build apps for Windows 10, they'll not only be compatible with all Windows 10 devices, but will be also be backwards-compatible with older Windows apps, as well. Windows 8 apps, which were built for touchscreens, now also work in the classic desktop mode and can be operated with a mouse and keyboard.
A Task View button on the taskbar shows all of the apps that are currently open. Users can switch among different desktops, with multiple apps running in separate areas. A new feature called Snap Assist enables power users to grab apps — modern or traditional — from multiple desktops, and tile windows and desktops into quadrants that make up a full-screen view. Even the Command Prompt comes equipped with improvements, like the ability to use CTRL+V to paste into directories.
Despite its emphasis on the keyboard and mouse, Microsoft also wants to support Windows users who use touchscreen devices, and unveiled new touch features. When a user swipes right on the desktop, the Windows 8 Charms bar, which is "expected to change," will appear. Swiping in from the left brings up the Task View, with larger, touch-friendly buttons intended to make multitasking easier.
Belfiore also introduced Continuum, a feature that changes the user interface based on the type of device that a Windows user is running. If a user is using a mouse and keyboard, he or she will get the classic desktop view. But on a hybrid or tablet, like the Surface, the user can switch to "tablet mode" by disconnecting the device's keyboard.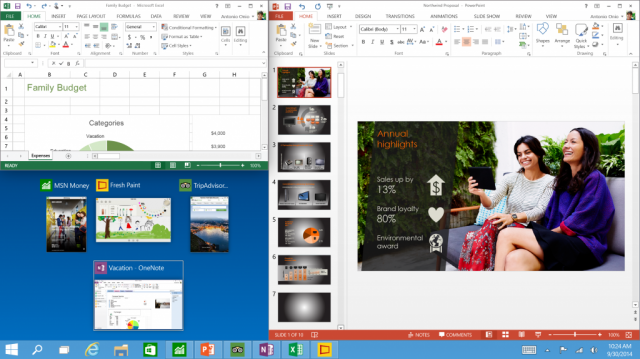 Myerson announced that beginning on October 1, Microsoft is opening the Windows Insider program to let people test the technical preview of Windows 10 for laptops and desktops, followed by enterprise server editions. (Windows users who are comfortable with running early beta software can sign up to access Windows 10 at preview.windows.com. Microsoft will use survey tools to gather feedback from "Insiders" and provide discussion forums where members of the engineering team will be accessible, the company said.) In its current version, the pre-release build is experimental, and Microsoft wants to gather feedback before a commercial version is finalized and launched.
During Tuesday's preview, the company didn't show off any consumer features of Windows 10. Early next year, Microsoft will talk more about the "consumer story." There will be more information — particularly on Universal apps — at the Build conference in April, and Windows 10 will ship by mid-year 2015. While Microsoft wouldn't say how much Windows 10 will cost or how it will be distributed, it is intended to be available as an update for the majority of Windows devices. However, in an acknowledgment that not everyone will update, Microsoft will also ensure that Windows 10 supports existing apps.
It's worth emphasizing that Windows 10 will be the next version of the mobile operating system. Microsoft intends Windows 10 as a system that will scale from a 4-inch screen to an 80-inch display. While Microsoft has separate teams working on desktop or mobile, there is also a team that works on the core technology that they all have in common. Though the operating system will be specifically tailored for devices of varying screen sizes, the versions will share core code, which will make the development process more efficient for developers.
It's clear that Microsoft is serious about coming out on top in the enterprise space. In taking on Apple and Google, especially in the battle for enterprise customers, the company is already optimistic that it will receive a positive response to its unified design approach, and says that its "best competitive response" is to build a product that will "delight" customers. Whether Windows 10 will delight customers remains to be seen, but with previews of the release opening on October 1, it won't take long to find out.
More from Tech Cheat Sheet:
Want more great content like this? Sign up here to receive the best of Cheat Sheet delivered daily. No spam; just tailored content straight to your inbox.