Microsoft's Surface Stomps on 4Q Earnings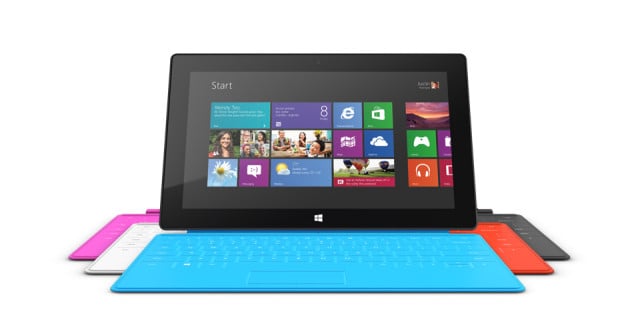 Last fall, Microsoft (NASDAQ:MSFT) launched an overhaul of its Windows operating system, complete with touch-screen capabilities that enabled the company to release a tablet of its own, the Surface, which was its first foray into the hardware industry. But since the beginning, the reviews of the device were not overwhelmingly positive, nor were the sales figures, and that problem was fully evident in the company's financials. On Thursday, the software maker reported that fourth-quarter net income came in at $5 billion, or 59 cents per share, which included a charge of $900 million, or $0.07 per share, "related to Surface RT inventory adjustments."
While the results did represent an increase of 5 percent from the year-ago quarter, the impact of the Surface write-off helped the company miss analysts expectations for earnings of 75 cents per share.
That the company's tablets have failed to take off has only exacerbated the harm that dwindling Windows sales have had on its performance. Because its software populates the majority of the world's personal computers, Microsoft has suffered as a result of the shift in consumer and business spending to tablets and smartphones and away from personal computers. Earlier this month, research firm Gartner reported that global PC shipments had dropped 10.9 percent in the second quarter and the industry had recorded shipment declines in the past five quarters, which is the longest slump on record.
Revenue rose 10 percent to $19.9 billion despite those difficulties, but the results did miss the $20.7 billion analysts had forecast as well.
"While our fourth quarter results were impacted by the decline in the PC market, we continue to see strong demand for our enterprise and cloud offerings, resulting in a record unearned revenue balance this quarter," said Microsoft Chief Financial Officer Amy Hood, in the company's earnings report.
New devices are still a key focus for Microsoft. "We are working hard to deliver compelling new devices and high value experiences from Microsoft and our partners in the coming months, including new Windows 8.1 tablets and PCs," explained Chief Executive Officer Steve Ballmer. "Our new products and the strategic realignment we announced last week position us well for long-term success…" The main point of the restructuring, to which he referred, is to focus on a single strategy rather than a "collection of divisional strategies" to better its operations and company performance. After all, in an accompanying strategy document titled "Transforming Our Company," he noted, "as the times change, so must our company."
As Hood told Bloomberg, sales of consumer PC shipments fell 20 percent in the past quarter. "We know we have to do better, particularly on mobile devices and so that's a big reason we made the strategic and organizational changes we made last week," she said in the interview. Asked how long it will take for Microsoft's position in tablets to make up for the contracting consumer PC market, Hood said: "It will take a long time for that to happen."
Compared to the negative imprint Microsoft's personal computer business left on its fourth quarter, the company said that its corporate offerings helped boost sales and profit: Microsoft's business division revenue grew 14 percent, server and tools revenue rose 9 percent, online services revenue climbed 9 percent, and entertainment and devices increased 8 percent. "We continue to see strong demand for our enterprise products and services, with more and more customers making long-term commitments to the Microsoft platform," Kevin Turner, chief operating officer, said in the earnings release.
Follow Meghan on Twitter @MFoley_WSCS