Mike Lazaridis: Back and Ready to Take BlackBerry Private?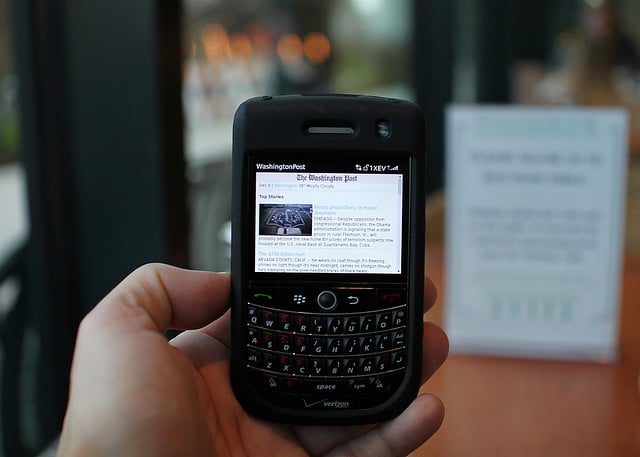 Following the close of yet another turbulent week for the struggling smartphone company, The Wall Street Journal reported another possible sale option for BlackBerry (NASDAQ:BBRY) Friday night, illuminating that its co-founder, Michael Lazaridis, has approached several private equity firms about a potential bid for the company.
Lazaridis founded BlackBerry with a friend in 1985, but handed over the reigns to the current chief executive, Thorsten Heins, last year after he and his co-CEO, Jim Balsillie, failed to stem the company's loss of market share and subsequently endured significant pressure from shareholders to step down. Though Lazaridis resigned from his post in January 2012, he still remains one of BlackBerry's largest shareholders, and therefore could smoothly take the company private if bids from private equity firms successfully materialize.
The Wall Street Journal noted Blackstone Group and the Carlyle Group as the two firms Lazaridis has already approached specifically, but cautioned that talks are still very much in their preliminary stages. It published the speculation just hours after BlackBerry released its preliminary second quarter earnings report Friday afternoon, and investors witnessed a revenue that hit well below analysts' expectations, causing the company's shares to plunge. 

Speculation about BlackBerry's precarious future continues to circulate as more and more reports shed light on its possible sale options, but the smartphone company remains mum about its alternatives and instead unveils its newest flagship device, the Z30. Though the smartphone's launch on Wednesday seemed to reflect positive news for the Canadian company, that optimism was muddied Friday when BlackBerry reported large-scale layoffs and $1 billion in unsold inventory. Now, Heins is maintaining that BlackBerry will stop selling its devices to consumers until it figures itself out, but the questions still remain: how and with whom?
According to The Wall Street Journal, BlackBerry now wants to secure a buyer by November, and it hopes its bankers, JPMorgan Chase & Co. (NYSE:JPM) and Perella Weinberg Partners, will help expedite the process. Lazaridis currently takes the forefront as one of BlackBerry's most viable options, but multiple names have been thrown around in recent weeks, and it remains unclear which private equity firms will eventually agree.
In addition, it is also possible that BlackBerry shareholders could be leery about handing the reigns back over to a man who arguably landed BlackBerry in this mess in the first place, so it will be interesting to witness what news, if any, come from the rumors.
Don't Miss: Going, Going, Gone: Apple's iPhone 5S Is Sold Out.