5 Great Personal Finance Apps to Keep You On Track
It seems like there's an app for almost everything now, and personal finance apps can be particularly helpful. Researching how to be more responsible with your money helps, but having an actual app (or two or three) at your fingertips to help you stay on track can be a great way to start a strong pattern of financial responsibility.
There are apps for everything from saving money to paying bills to budgeting, and there are many choices for each category. Choosing a few apps to start with can help if you are new to using personal finance apps, and hopefully just utilizing one or more will make a difference when you are out and about and wondering if you should purchase something, or if you are on a business trip.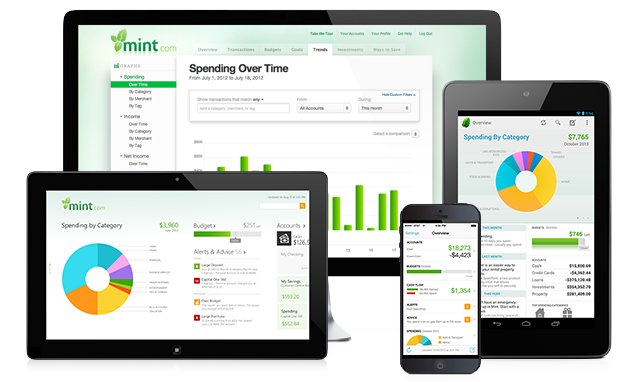 1. If you need an app for budgeting and keeping track of accounts
Mint.com has a collection of helpful personal finance apps. The company's iPhone app was named the Best Finance App by App Awards and included in Time Magazine's 50 Best iPhone Apps of 2011. The app makes it easy to track your finances and offers alerts for high spending. The app also allows users to check account details and update their budgets; it also updates the instant you enter in new purchases.
The app also is password protected, which is a nice feature in case you lose your phone or have nosy friends or coworkers. Most user reviews are positive and suggest that the app is easy to use and helpful, but did note that some features that are available on the browser-based version are not available on the app. The app is free.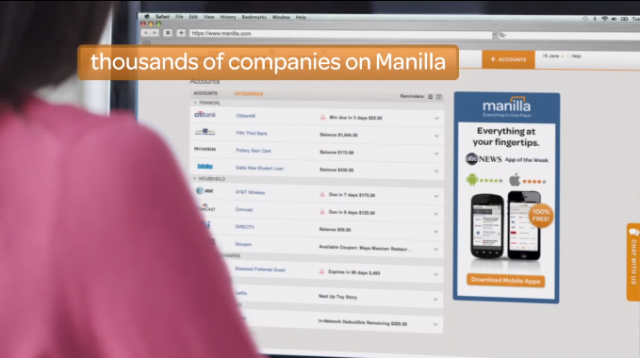 2. If you need an app for monitoring bills
Manilla's app is great for keeping track of your bills on the go. The app holds information for all of your different bills and sends automatic reminders when your bills are almost due; it also reminds you when reward points are about to expire. More than 4,000 businesses – credit cards, utility companies, wireless carriers, and more — are included, but you can also add other accounts that you want to keep track of but are not available online (like babysitting).
The app offers easy access to bills, financial accounts, loyalty programs, and other options, and it uses one password, which makes it easy for users to access while still being secure. Also, unlimited online document storage is also included.


3. If you need an app for increasing savings
SavedPlus offers a free mobile app for Android and iPhone, as well as a website, like the other apps mentioned. According to its webpage, clients save $4,200 per year. The app helps users meet their financial savings goals by automatically transferring a set percentage of money over to savings when clients use their credit card or checking account, which should hopefully help you save more in the long term.
Users can choose a set amount – from 5 to 20 percent of their purchases –to be saved each time. The company works with any bank, so you can include your accounts easily. All transactions are encrypted and secured by Thawte, and the company says it does not collect or store any personal information. The app seems to be popular with users and media alike.


4. If you need an app for investing
The TD Ameritrade mobile app is available for iPad, iPhone, and Android, and it allows users to quickly manage their accounts and make trades. The app allows users to analyze trends, access market news, monitor orders, view streaming quotes, and access charts for technical analysis; users can also transfer cash from other accounts. Check deposits can be up to $10,000.
The company also offers the TD Ameritrade Mobile Trader App, which is a more advanced app with more options. Users can trade stocks, manage multi-leg and complex options, use paperMoney options to test strategies, view charts with technical indicators, and see streaming programming. It is available for iPad, iPhone, Android, and tablets.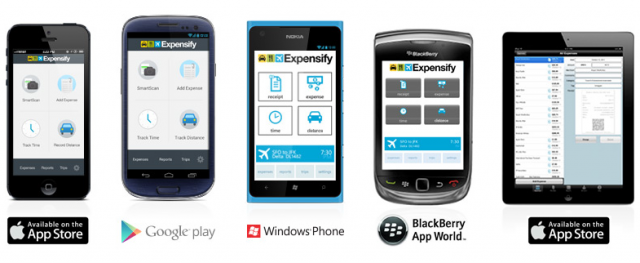 5. If you need an app for business travel
Expensify has apps for iPhone, iPad, Android, Windows Phone, and Blackberry. Expensify mobile is ideal for people who travel regularly for business purposes, because the apps allow users to track expenses, create expense reports, and even snap photos of receipts in order to save time when trying to get reimbursed later.
Once you take a photo of your receipt, SmartScan fills in all the expense details or attaches the receipt to the associated credit card expense. The process can take up to 10 minutes to complete, which seems pretty reasonable. You can also add expenses related to time spent by entering the number of hours and the rate. The app even has a mileage expense option.
There are many other neat personal finance apps out there, and you can find one for pretty much whichever part of your own finances you want to keep in check.
More From Wall St. Cheat Sheet: