Blackberry May Have a Future in Connected Ford Cars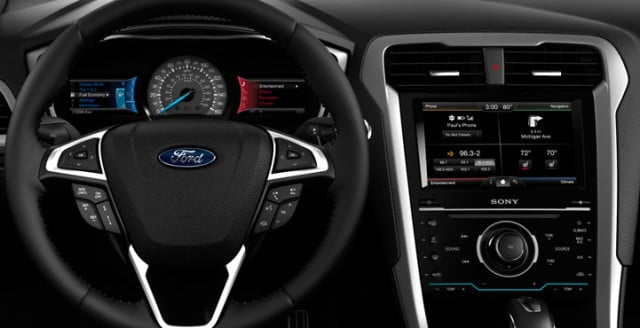 A recent Accenture study suggested automakers ought to consider in-car technology a top priority; J.D. Power's latest Initial Quality Study showed how poorly connected cars can dent the reputation of a company like Ford (NYSE:F). According to reports, this convergence may lead Ford to drop its Microsoft (NASDAQ:MSFT) in-car tech system for the BlackBerry (NASDAQ:BBRY) QNX. Following the positive news about messaging value per the Whatsapp sale, that may spell a brighter future for BlackBerry.
The Detroit News reported that Ford is poised to quit using Microsoft's SYNC system, turning instead to the BlackBerry QNX operating system known for fewer glitches. Top-shelf automakers from Audi (VLKAY.PK) to BMW (BMAXY.PK) use QNX in their cars now, which has made automakers throughout the industry take notice.
The need for quality software to monitor a car's mechanical systems and connect drivers to web-based apps is of primary importance to modern automakers. A study completed by Accenture in December 2013 showed 39 percent of consumers prize connectivity above any other factor in buying a new car. By contrast, only 14 percent said actual driving performance mattered most when they went shopping for an automobile.
It's a high-tech world; automakers just live in it. As a result, Ford is forced to move quickly or suffer the consequences of poorly designed "infotainment" technology in its products. According to The Detroit News, J.D. Power's study showed more than one-fifth of the issues drivers had in cars related to the entertainment and navigation systems. Sources told the news agency that BlackBerry is likely the beneficiary of this news for its respected QNX platform.
J.D. Power Initial Quality reports are surveys that examine customer issues with new cars. A glance at any auto ad on television or online shows how highly automakers regard a high quality rating from the company. Microsoft's inability to deliver the seamless connectivity Ford drivers want is clearing a path for Blackberry.
The news about Facebook's (NASDAQ:FB) buy of Whatsapp was rumored to have a positive impact on the valuation of BlackBerry because of its BBM messaging feature. Analysts continue to debate the ripple effect for BlackBerry, but a key position in Ford's automobiles in the near future would certainly add to the technology company's standing.
After falling below $6 in December 2013, BlackBerry stock broke the $10 mark in mid-January 2014 and has held near $9 for most of February. There may not be much of a future for the company in handsets, but its in-car tech already has its share of traction in the auto industry.
More from Wall St. Cheat Sheet: