Can Ballmer and Gates Survive Re-Election?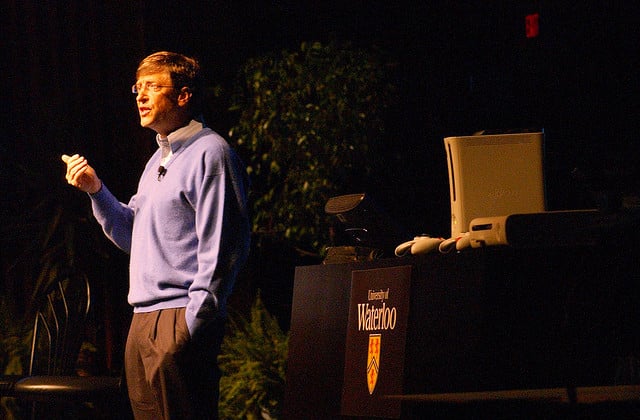 Investors have been calling for Microsoft (NASDAQ:MSFT) Chief Executive Officer Steve Ballmer to step down for some time and for a visionary new leader who will focus on innovation, rather than salesmanship, to take his place. The chief executive has taken a great deal of criticism for the poor performance of Microsoft's stock since he assumed the leadership position in 2000.
The stock has lost about 42 percent of its value in the past 13 years, a symptom of Microsoft's inability to keep up with the changing technological trends. Furthermore, Ballmer is not the only executive Microsoft shareholders are looking to shed. Through sources familiar with the matter, Reuters learned that three of the company's top 20 investors want Chairman Bill Gates to leave the company he founded 38 years ago with Paul Allen.
These activist investors believe that Microsoft must transform itself, and fast, to compete with the major players in the mobile computing industry — Apple (NASDAQ:AAPL) and Google (NASDAQ:GOOG). Their thinking is that Gates will only stand in the way of any changes. But the chairman has shown no sign of relinquishing his role.
As for Ballmer, he announced he planned to step down within 12 months in August. He will continue to serve as chief executive until his successor is found, but whether he will remain a board director after stepping down is unknown. Due to investors' disappointment with the company, Ballmer, who has missed his own goals and allowed Microsoft's finances to slip, received a smaller-than-projected bonus for the second consecutive year.
In a filing made with the Securities and Exchange Commission Thursday, the chief executive was paid $1.26 million for the year ended June 30, with independent directors approving a $550,000 bonus for Ballmer — 79 percent of his target bonus for the year. His base salary amounted to $697,5000, an 1.8 percent increase from the prior year.

In particular, investors are not very pleased with Microsoft's hardware forays. The company's efforts been underwhelming. Last fall, Microsoft launched an overhaul of its Windows operating system, complete with touch-screen capabilities that enabled the company to release a tablet of its own, the Surface, its first step into the hardware industry. But since the beginning, the reviews of the tablet have not been overwhelmingly positive, nor have the sales figures, and that problem is evident in the company's financials.
In mid-July, the software maker reported that fourth-quarter net income came in at $5 billion, or 59 cents per share, which included a charge of $900 million, or $0.07 per share, "related to Surface RT inventory adjustments," meaning that Microsoft miscalculated the number of tablets the company should have manufactured or the price the company should have charged for the device.
The overhaul not only to prop up the company's financial results, but it also failed to boost sales of its computers. For the past fiscal year, revenue rose 6 percent, but operating income dropped 5 percent, excluding a major writedown.
The filing noted that the chief executive's bonus had be reduced because "Ballmer's performance against his individual commitments, the financial and operational performance of the company, and the operating income performance of the company relative to 25 large technology companies."

Still, despite shareholder unrest, it is highly likely that both executives will not be re-elected by shareholders at Microsoft's annual meeting on November 19. In the proxy filing, the board also noted that the company had made "significant strides" in the past year to lessen Microsoft's focus on traditional software while developing more online software and homegrown computing devices.
Even more significantly, those strides came at time when Microsoft is weighed down by collapsing personal computer market and slower-than-expected sales of one model of its Surface tablet.
As the board's comments suggest, Microsoft has begun a campaign to transform itself. In July, Ballmer announced a "far-reaching realignment of the company that will enable [Microsoft] to innovate with greater speed, efficiency and capability in a fast changing world."
In a strategy document titled "Transforming Our Company," he noted, "as the times change, so must our company." Basically, the transformation the CEO had in mind was a greater focus on tablets and smartphones. Then, at the beginning of September, Microsoft announced that had made a $7-billion deal to acquire Nokia's (NYSE:NOK) struggling cellphone business, a move designed to bring Microsoft into the leagues of Apple and Samsung (SSNLF.PK).
Regardless of the shareholder vote, Ballmer will be involved with the company after his resignation as one of its largest investors. Last month, during a meeting with analysts, he made that position clear. With his 4.5 percent stake, Gates is currently the company's largest individual shareholder, according to proxy filings. But Ballmer, with a 4 percent stake, could soon eclipse the chairman if he continues to sell 20 million shares per quarter as he has for the past 10 years.
Follow Meghan on Twitter @MFoley_WSCS
Don't Miss: Citigroup's Premature Research Release Results in $30M Fine.