Facebook: Curing Boredom for Users and Investors?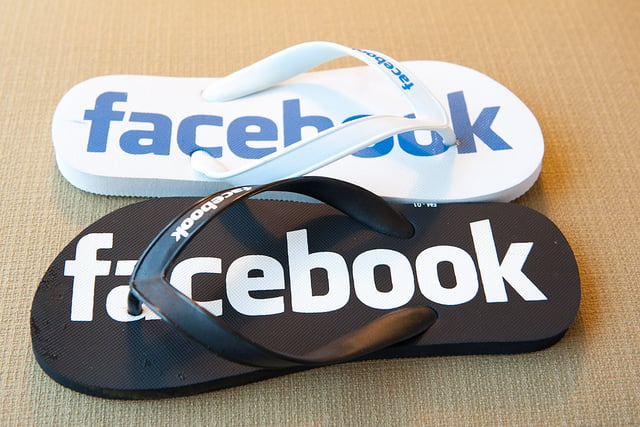 Not too long ago, the social media craze was considered the latest fad involving an Internet connection. Its introduction to Wall Street even brought back memories of the disastrous dotcom bubble. However, several popular Internet names have been among the best performers in the market this year, and the largest social network continues to cure boredom around the world.
Facebook's (NASDAQ:FB) initial public offering was tagged as a failure from the beginning. The social network went public last year at a price of $38 per share and ultimately hit a low of $17.55. Despite the complications, Facebook shares recently surged to as high as $50 and received an upgrade pointing to a much higher price.
Earlier this week, analyst Richard Greenfield from BTIG upgraded Facebook from Neutral to Buy with a price target of $68, representing more than 30 percent upside. The price target is based on 20x 2015 EV/EBITDA, a slight multiple expansion from Facebook's current 19x 2014 EV/EBITDA. Greenfield is also taking a more bullish view on revenue. For 2014, Facebook's revenue is estimated at $10.5 billion, compared to the prior $9.3 billion. In 2015, he expects revenue to total $14 billion, up $3 billion from the previous estimate.
Since becoming a publicly traded company, Facebook has ramped up its efforts in advertising. Many thought this would deter users from using the social network, but many people can't stop spending time on Facebook.
"Facebook's ad load remains quite heavy, yet we notably underestimated Facebook's stickiness as a consumer utility for messaging and photo sharing, not to mention the power of Facebook as a 'cure for boredom,' both in-home and on-the-go," explained Greenfield. "As we have surveyed users, including teens and adults, we increasingly find that even those that claim to be dissatisfied with the Facebook experience/platform continue to use it on a daily basis. With Facebook users remaining highly engaged on mobile devices, despite the intrusiveness of ads, Facebook has notably improved/refined its advertising products and targeting tools."
As the chart below shows, Facebook is having anything but a boring year. Shares are up more than 85 percent year-to-date. Other popular Internet names such as LinkedIn (NYSE:LNKD) and Yelp (NYSE:YELP) are also outperforming the broad market.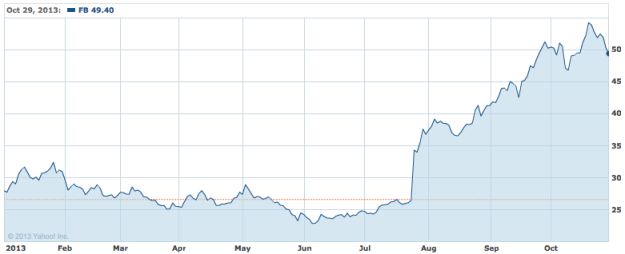 While there have been some doubts about growth rates among teenagers, older adults are still increasing their presence in social media. According to a recent report from Pew Internet, 72 percent of adults in the Untied States currently use social networking sites compared to 67 percent last year. When Pew Internet first started tracking the data in February 2005, only 8 percent of adults used social networking sites.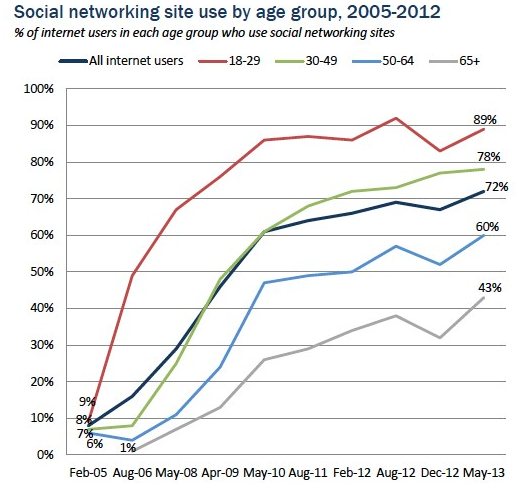 Almost 90 percent of adults aged 18 to 29 use social networking sites, the highest amount across all age groups. However, older age groups also have impressive figures. Seventy-eight percent of adults age 30 to 49 use social networking sites, while 60 percent of adults age 50 to 64 do the same. Furthermore, a whopping 43 percent of adults age 65 and older said they use social networking sites.
According to Facebook's latest earnings report, the social network now has 1.19 billion monthly active users, up 18 percent from a year earlier. Mobile monthly active users were 874 million as of the end of September, an increase of 45 percent from last year.
Don't Miss: Apple Grows Cash Pile to New Record High
Follow Eric on Twitter @Mr_Eric_WSCS