Google and Samsung Form Powerful Patent Alliance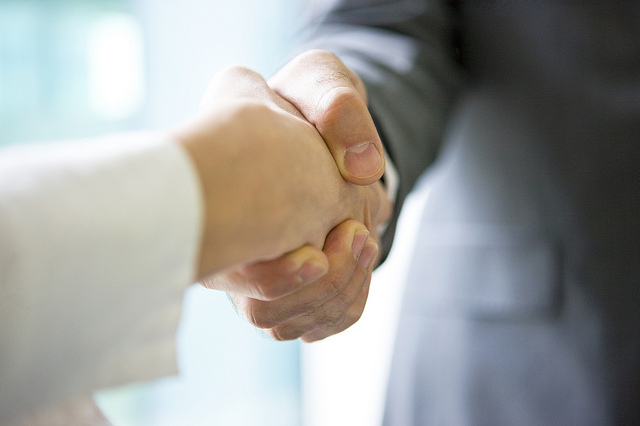 Google (NASDAQ:GOOG) and Samsung Electronics (SSNLF.PK) are getting a leg up on the competition by teaming up to unite against their biggest enemy — Apple (NASDAQ:AAPL). On Monday, Google and Samsung announced that they had signed a ten year patent agreement covering all current and future technology patents.
"With this agreement, Samsung and Google gain access to each other's industry-leading patent portfolios, paving the way for deeper collaboration on research and development of current and future products and technologies," the companies said in a press release posted to Samsung's website.
"We're pleased to enter into a cross-license with our partner Samsung," said Allen Lo, Deputy General Counsel for Patents at Google, in the statement. "By working together on agreements like this, companies can reduce the potential for litigation and focus instead on innovation."
"This agreement with Google is highly significant for the technology industry," said Dr. Seungho Ahn, the Head of Samsung's Intellectual Property Center. "Samsung and Google are showing the rest of the industry that there is more to gain from cooperating than engaging in unnecessary patent disputes."
Samsung's smartphones run on Google's Android operating system, so a partnership makes sense for the two companies. While they do have a point that the current patent system is broken, and that companies could benefit from cooperating rather than involving each other in drawn-out litigation over patent infringement, the deal also serves to better protect Samsung and Google from arch rival Apple.
The more patents that a tech company holds, the less likely it is to be sued by a competitor because it is more likely that the competitor is also infringing one of its rivals' patents. Now that Samsung and Google have teamed up, it will be even more difficult for Apple to sue either of them over patent infringement and win.
Apple and Samsung have been involved in a long and complicated legal battle over patent infringement since 2011. Most recently, Apple won a couple pre-trial judgements that were made in its favor
last week
, but overall, the litigation is seemingly endless, full of suits and countersuits between the rival smartphone makers. At the beginning of the month, Apple and Samsung agreed
to enter mediation
ahead of their next trial date in March, but it's hard to retain hope that the bitterly feuding companies will reach any kind of agreement without a trial.
With all the suing going on regarding tech patents, it's big news that two of the biggest companies in the sphere have made such an agreement. Google holds patents for both its Android operating system and
Motorola's
(NYSE:MSI) smartphones, which Google acquired for $12.5 billion in 2011. Motorola is also feuding with Apple over smartphone patents, as earlier this month an appeals court found that Apple's iPhone
does not infringe
on any patents held by Motorola.
"We're disappointed in this decision and are evaluating our options," said Motorola in a
statement via
Reuters
. Now that Google and Samsung have formed a powerful alliance, it remains to be seen what Apple's next move will be.
More From Wall St. Cheat Sheet: