Here's Why Facebook Gets the Best of Both Worlds
Facebook's (NASDAQ:FB) initial public offering was a notorious flop. The social network went public in May 2012 at a time when there was a lot of hype and a lot of lost money in social media. Investors had witnessed or experienced the flops that were the Groupon (NASDAQ:GRPN) and Zynga (NASDAQ:ZNGA) IPOs, and even on a good day regarded Facebook dubiously.
Shares opened for trading May 18 at $38 per share, and some combination of deflating hype, technical malfunction, and market voodoo drove shares down more than 32 percent by June 5; by September, the stock had lost more than 50 percent of its value.
The price action was, perhaps, a wakeup call for CEO Mark Zuckerberg. The company cracked down on monetization and punctuated several quarters of strong financial results with a report in July that drove the company back up to its IPO valuation of about $100 billion. A rigorous focus on becoming a world-class advertising platform with demonstrable revenue streams was what it took to convince Wall Street to drink the Kool-Aid.
Historically, Zuckerberg had resisted the idea of going public. He said at TechCrunch Disrupt on Thursday, "I've been very outspoken about staying private for as long as possible," but now "I don't think it's that necessary to do that … I actually think that it's made our company a lot stronger."
When the first iteration of Facebook launched in 2004, Zuckerberg didn't necessarily set out to build a multibillion-dollar business: He set out to change the world. To that end, the business is just a means, and he leads it as something of a resident bleeding heart who has surrounded himself with smart, like-minded people.
When confronted, most of Facebook's management will dismiss pressure to monetize and instead wax poetic about their mission "To give people the power to share and make the world more open and connected." Abiding by this sort of feel-good mission is typically a difficult responsibility to share with obligations to shareholders.
However, this mission appears to have guided the company well, and investors are finally rewarding Facebook. At the end of August, the social media giant broke the psychologically significant valuation of $100 billion. The company's stock has climbed nearly 90 percent over the past three months, and on Thursday morning was trading over $45. This was largely the result of the company's most recent earnings report.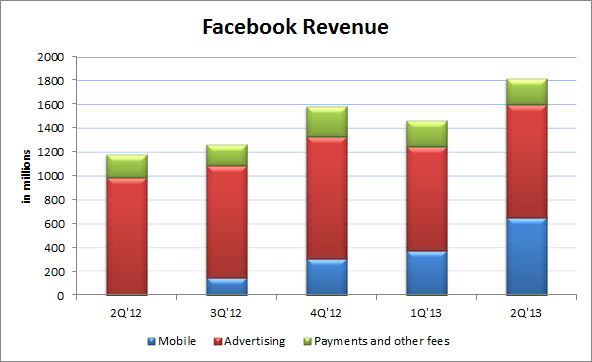 Now, with the approval of the market, Zuckerberg has increased liberty to pursue the sort of far-reaching, world-changing things that, ostensibly, he has always wanted to do.
So what does that ambition look like?
Most recently, it's an initiative called Internet.org with a mission to provide Internet access to the 5 billion people on the planet — 65 percent of the global population — who currently do not have it. Facebook published a report called "Is Connectivity A Human Right?" that discusses the issue and the project. Summing up his position, Zuckerberg wrote:
"I'm focused on this because I believe it is one of the greatest challenges of our generation. The unfair economic reality is that those already on Facebook have way more money than the rest of the world combined, so it may not actually be profitable for us to serve the next few billion people for a very long time, if ever. But we believe everyone deserves to be connected."
He also demonstrated why this project is more than just a social good (read: may have some financial reward attributable to Facebook):
"In a detailed analysis, McKinsey has shown that the internet now accounts for a larger percent of GDP in many developed countries than agriculture and energy. It has also accounted for 21% of GDP growth in developed countries in the past five years, increasing rapidly from just 10% over the past 15 years. About 75% of the gains are experienced by companies outside of the technology industry. And the internet creates jobs, with 2.6 new jobs being created for every job lost to gained efficiencies."
Don't Miss: 7 New iOS 7 Features to Look Forward To.