Here's Why Facebook Is Worth $100 Billion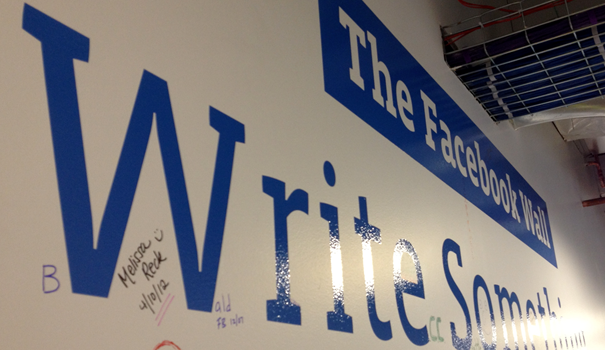 Over at Glassdoor.com, Facebook (NASDAQ:FB) founder and CEO Mark Zuckerberg has an astounding approval rating of 97 percent. The company, with headquarters in Menlo Park, California, was named the No. 1 best place to work in a 2013 Glassdoor report, edging out notorious awesome workplace-provider Google (NASDAQ:GOOG); co-founder and CEO Larry Page comes up short with a 95 percent approval rating.
At a glance, the feat may seem superficial, but attracting, retaining, and fostering the best tech talent from around the world is what keeps thriving Internet and technology companies great. More so than nearly any other sector, the ability of a technology company to sink or swim is directly related to its ability to innovate and make new, untested things work in a rapidly changing and highly competitive environment.
This doesn't just mean having the right vision — something that Zuckerberg has on lockdown — but having the human capital like talent, skill, dedication, etc. to make it happen. An all-star executive team can't right a ship by itself any better than Captain Nemo could sail the Nautilus single-handedly.
So when a company like Facebook breaks a market cap of $100 billion and joins a relatively small pantheon of technology companies at the top of the pile, the market is making a bet not just on Zuckerberg but on his crew, too.
Facebook on Monday earned back the $100 billion valuation it flirted with more than a year ago when it launched its initial public offering. Shares rose to an intraday high of $41.93 in morning trading, a 3 percent gain on no specific catalyst,  before settling down a bit. Shares are up more than 44 percent this year to date, having surged as much as 20 percent after the company reported second-quarter earnings that smashed expectations.
Revenue increased 53.1 percent on the year to $1.8 billion, beating the average analyst estimate of $1.62 billion. Adjusted earnings increased 58.3 percent on the year to 19 cents per share, beating the average analyst estimate of 14 cents per share. Facebook reported that mobile advertising revenue accounted for approximately 41 percent of total advertising revenue for the quarter, up from 30 percent in the previous quarter.
Adjusted operating margin increased 1 percentage point on the year to 44 percent. Daily active users increased 27 percent on the year to 699 million, while monthly active users increased 1 percent on the year to 1.15 billion. The company reported that it surpassed 1 million active advertisers in the quarter, with advertising revenue of $1.6 billion accounting for 88 percent of total revenue. Total advertising revenue is up 61 percent on the year.
The stock had one of the most notorious flops in history the day it debuted, with technical problems on the Nasdaq exchange compounding the problems associated with Wall Street's nebulous sense of how to value a social media company. For pretty much the next year, every piece of news about the company was interpreted as "Is this the thing that will fix Facebook?"
Or — perhaps more accurately — the question was, "Is this the thing that will sufficiently monetize Facebook?"
Advertising was was always the favorite horse in the race, but as Facebook demonstrated that it could create cash flow from display ads on PCs, the way people used the service was changing. More and more people began to access Facebook from mobile devices, and a growing number access Facebook only from a mobile device.
Without a functional mobile advertising platform, this was disastrous; it very quickly it became obvious that if Facebook did not figure out how to conduct mobile advertising in an effective way, it could find itself adrift.
However, with the release of the company's second-quarter results, Facebook seems to be standing on solid ground for the first time since its IPO. This is largely thanks to its now-demonstrated ability to make money from mobile advertising. Facebook, unlike many others operating in the space, has little fear of a shift toward mobile usage.
Facebook's ability to capitalize on the shift toward mobile use is critical. A study conducted by comScore and seen by AllThingsD showed that while desktop user minutes of unique monthly viewers declined year over year for July, from 439 minutes to 351 minutes, mobile user minutes almost doubled, going from 508 minutes to 941 minutes per unique monthly viewer. The data support an industrywide trend showing an increase in mobile at the expense of desktop usage, something the PC industry knows all too well.
The comScore data support multiple studies published recently that basically say everyone and their brother is on Facebook all day, every day. A recent eMarketer study showed that almost 100 percent of people who access social media via mobile do so on Facebook; that figure is expected to stay near 100 percent through 2017. By that year, 95 percent of Facebook users will supposedly access the site via mobile.
But with a service that falls somewhere between socially critical and addictive, and with demonstrated mobile revenues in hand, the market's take on the company is still largely speculative. Shares traded Monday at a trailing 12 month price-to-earnings ratio of 187.87; compare this to 25.10 for Google.
Such a high P/E suggests that Facebook's valuation is built around what it will be able to deliver in the future: Even more cash for investors.
How Facebook will come to justify its huge valuation is a subject best left for speculators and the company itself. However, what it's doing right now to invest in its future is something that should be of huge interest to investors.
Besides making sure that it's the best place to work — and thereby attracting and retaining top talent — Facebook is investing heavily in research and development. The company spent $637 million on R&D in the first half of 2013. Facebook is shamelessly investing in the infrastructure it believes it will need to support its future business, which it expects will be substantially larger than what it is now.
Facebook also has enough cash laying around — about $3 billion in cash and cash equivalents at the end of the last quarter — to make large acquisitions. With this in mind, Instagram and particularly its monetization prospects was a popular topic of conversation during the second-quarter earnings call. Zuckerberg said during the conference call, the "newest product I am most excited about from our last quarter is Instagram video.
"We're building Instagram to be at business and that we expect that over time we're going to generate a lot of profit from it, and probably through advertising," he said. "Now, that all said, right now it's just growing still quickly. I mean the number that we just said was 130 million monthly actives. Video product is growing really quickly. There are so many directions to expand this in that we think that the right focus for now is to continue just focusing on increasing the footprint of Instagram. And when the right time comes then we'll think about doing advertising as well, but I think that's going to be a really big opportunity."