Is the iPhone Turning Golden?
With Apple, it seems all that ever floats around is rumor after rumor. Apple rarely does a thing to validate rumors, yet the mill continues to circulate. The latest rumor looks to turn the iPhone 5S golden — literally.
A rumor is only worth so much when it's backed up by nothing more than words, but every now and then, an Apple rumor has a little more substance, as is the case here. Leaked images show a number of internal and adorning components supposedly for the next iPhone, and they aren't black, white, or silver.
The components shown — a SIM card tray, volume buttons, a ringer switch, and the sleep button — all happen to be a quite unexpected golden color. Apple's iPhone designs have generally been more austere in style, with only black and white device with grey adorning elements. A switch to gold would add a bit more flair to Apple smartphone series.
There's no telling what a change like this could mean for Apple. It may boost sales to consumers who like to be a little flashier and have avoided Apple in the past on those grounds. It could do the opposite as well, turning away customers who loved Apple for the simplicity and modesty of design, even though it seems unlikely that Apple won't also launch black and white models.
The launch of a golden iPhone 5 could amount to very little, as customers have been able to customize their iPhones with any number of cases for years. Such iPhone cases can range anywhere from simple designs meant only to protect the phone and consumers' investments to gaudy designs that include things like bear ears on top of the phone or angel wings sprouting out of the back.
It's also possible that the golden color will not be so pervasive; the elements shown in the supposed leak only appear around the trim of Apple's phones. A number of internal components are also shown, but those will never add much to the style of the devices. It could be that Apple will keep its phones black and white and just change the silver trim around the edges to golden.
One additional thing that the leaked images hint at is Apple being further along in the production process of the next iPhone. Any advancement of timeline estimates for Apple could be big news, as customers and investors alike have been lead to believe that Apple wouldn't have any hot new devices out until fall, as Chief Executive Officer Tim Cook suggested in the company's last earnings call.
The long delay between products that launched last winter and expected launches in fall has left many investors concerned about Apple, and the company's shares have shown the effect of that concern. If Apple were to surprise investors with an earlier launch of the next iPhone, the stock could see a quick turnaround.
The stock has already bounced back some from its deep dip in late April — when it hit a low of $385.10 — but there's still a long way to go for the company to recover from the fall from grace late last year, and rumors alone aren't going to get the job done.
Here's how Apple traded on Tuesday: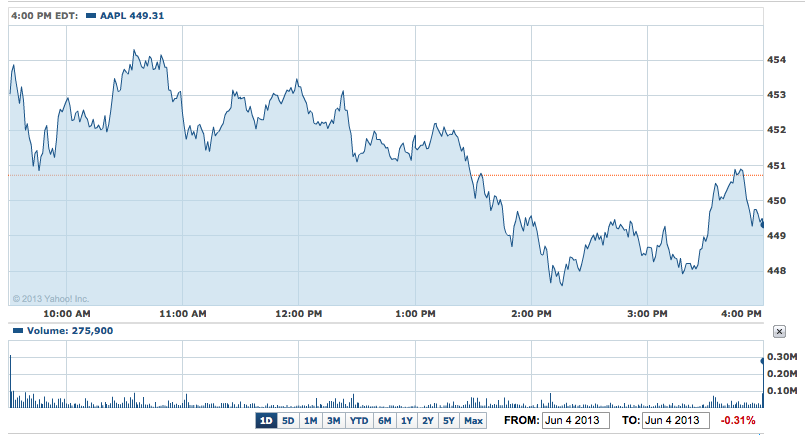 Follow Mark on Twitter (@WallStMarkSheet)
Don't Miss: Is Apple Adding a Holdup to All the Delays?