Motorola Undercuts Apple's iPhone 5S With a New Moto X Price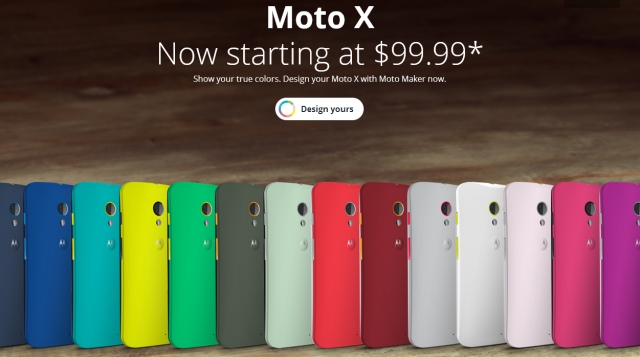 In a move that may signal increasing competition for Apple's (NASDAQ:AAPL) iPhone 5S, Google's (NASDAQ:GOOG) Motorola Mobility has dropped the on-contract price of the 16GB Moto X smartphone from $200 to $100. As reported by Engadget, many consumers felt that the Android-powered device was overpriced at $200 with a service contract.
Although the Moto X is currently available from the five largest carriers in the U.S., the Moto X's new $100 price only applies to the Sprint (NYSE:S) and U.S. Cellular (NYSE:USM) versions of the phone, as well as the special AT&T (NYSE:T) Moto Maker version. However, the regular 16GB AT&T version still sells for $200. Verizon (NYSE:VZ) also still sells the phone for $200 with a two-year service contract, while the T-Mobile (NYSE:TMUS) version is only available for the off-contract price of $600.
The Moto X's $200 price tag seemed especially high when compared to Apple's similarly priced iPhone 5S. Although the 16GB iPhone 5S also costs $200 with a service contract, it features the groundbreaking Touch ID fingerprint sensor and a new 64-bit A7 processor.
While the Moto X has a 1280 x 720 pixel display, its 4.7-inch screen is slightly larger than the iPhone 5S screen, leaving Motorola's device with a lower pixel density of 316 ppi (pixels per square inch).  The iPhone 5S has a 4-inch 1136 x 640 pixel display that gives it a higher pixel density of 326 ppi. On the other hand, the Moto X also features a 10-megapixel camera, while the iPhone 5S only has an 8-megapixel camera.
Motorola engineer Iqbal Arshad defended the Moto X's screen resolution in an interview with CNET earlier this year. "The human eye cannot discern resolution beyond 300 pixels per inch. And we exceed that. So the eye can't even see the difference," noted Arshad.
Motorola's smartphone has often been compared to Apple's iPhone, since the Moto X was touted as the flagship device for Google's Android operating system. Google even hired former Apple marketer Guy Kawasaki as an adviser for Motorola earlier this year.
Other tech industry commentators have pointed out design similarities between the Moto X and the iPhone. Piper Jaffray analyst Gene Munster wrote in a note to investors earlier this year that Motorola took a very "Apple-like" design approach to the Moto X. While it remains to be seen how the recent Moto X price-drop will affect Apple's iPhone sales, Google is likely hoping that the lower cost will persuade some potential Apple customers to try Android's answer to the iPhone.
Follow Nathanael on Twitter (@ArnoldEtan_WSCS)
Don't Miss: Steve Wozniak to Apple: Make a 256GB iPad Air.