NVIDIA Corp Earnings Cheat Sheet: Profit Decreases
S&P 500 (NYSE:SPY) component NVIDIA Corporation (NASDAQ:NVDA) reported its results for the first quarter. NVIDIA Corporation provides visual computing technologies that generate interactive graphics for computers, mobile devices and gaming consoles.
Don't Miss: Wall St. Cheat Sheet's newest Feature Trades of the Month!
NVIDIA Earnings Cheat Sheet for the First Quarter
Results: Net income for NVIDIA Corporation fell to $135.2 million (22 cents/share) vs. $137.6 million (23 cents/share) a year earlier. A decline of 1.7% from the year earlier quarter.
Revenue: Fell 4% to $962 million YoY.
Actual vs. Wall St. Expectations: NVDA reported adjusted net income of of 27 cents/share. By that measure, the company beat the mean estimate of 19 cents/share. Estimates ranged from 18 cents per share to 23 cents per share.
Quoting Management: "Our core GPU businesses are solid, with expanding revenues and margins. And this quarter, our Tegra mobile business took off," said Jen-Hsun Huang, NVIDIA president and chief executive officer. "With the Tegra super chip and the Icera wireless communication processor, we will offer our customers the two most important processors of the mobile computing revolution. We look forward to completing the Icera acquisition shortly."
Key Stats:
Revenue has fallen for the past three quarters. In fourth quarter of the last fiscal year, revenue declined 9.8% to $886.4 million while the figure fell 6.6% in third quarter of the last fiscal year from the year earlier.
The company's cost of sales fell 12.4% from a year earlier to $477.5 million. Last quarter, cost of sales was 49.6% or revenue versus 54.4% a year earlier.
Competitors to Watch: Advanced Micro Devices, Inc. (NYSE:AMD), Intel Corporation (NASDAQ:INTC), Texas Instruments Inc. (NYSE:TXN), Broadcom Corporation (NASDAQ:BRCM), QUALCOMM, Inc. (NASDAQ:QCOM), Microsoft Corporation (NASDAQ:MSFT), Silicon Image, Inc. (NASDAQ:SIMG), Pixelworks, Inc. (NASDAQ:PXLW), Marvell Tech. Group Ltd. (NASDAQ:MRVL), and ARM Holdings plc (NASDAQ:ARMH).
Stock Performance: Shares of NVDA are down over 2% after hours.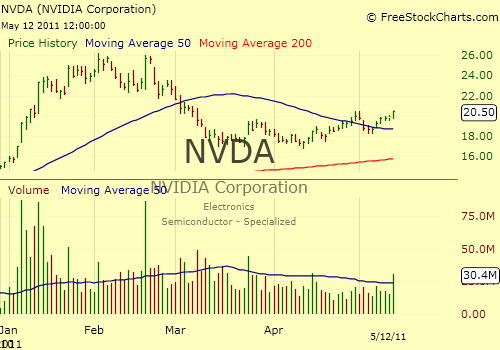 Don't Miss Wall St. Cheat Sheet's newest Feature Trades of the Month!