Pentagon Says It Is Not Buying Any New BlackBerrys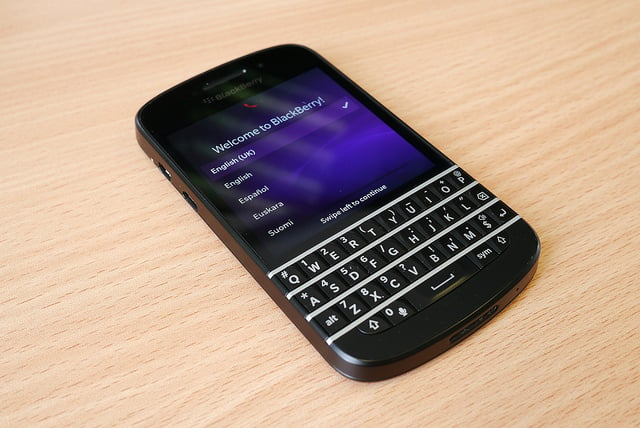 BlackBerry (NASDAQ:BBRY) stock is up 22 percent this week after news broke that the smartphone carrier had secured a deal with the U.S. Department of Defense to supply smartphones for the department's new secure network. But now it turns out that the press release from the Defense Information Systems Agency (or, DISA) didn't allude to any purchases of new BlackBerry devices.
"Absolutely no new orders have been placed for new BB devices. The DISA press release put out January 16 never alluded to any devices being purchased. The 80,000 BBs and 1,800 non-BB devices referenced in the release are legacy systems already in DoD inventories," the Department of Defense said in a statement to The Verge.
The press release from DISA that came out last week said that, "The program currently supports 1,800 unclassified mobile devices including iPad 3 and 4, iPhone 4S and 5, Samsung 10.1 tablets and Samsung 3S, and Motorola RAZR devices with participation from the combatant commands, services, and agencies throughout DOD. The program also supports 80,000 BlackBerry phones."
Apparently, what the department meant by "supports" is that already existing BlackBerry phones used by members of the Defense Department would be supported by the new network, not that the department plans to buy 80,000 new BlackBerry devices. The release actually contains bad news for BlackBerry, because the super-secure network that Defense Department employees will be using to work on unclassified documents from their mobile devices will be open to devices from competitors instead of being limited to the BlackBerry platform.
The Verge pointed out that BlackBerry has the tendency to release statements when it does get good news (which isn't all that often), so it was odd that the company had nothing to say about the supposed huge order from the Defense Department.
BlackBerry has long been a Pentagon favorite as its devices and network are known for being incredibly secure. President Obama himself famously uses a BlackBerry phone, even though it's "no fun," because it was the only device deemed secure enough for the President's use. When news of the Pentagon deal broke earlier this week, it seemed to make sense that BlackBerry would be the provider of the majority of devices used on the new network. "It's a challenging specification, and other vendors are having a tough time meeting it," said Doug Pollitt, a broker at Toronto-based Pollitt & Co., to Bloomberg. "BlackBerry has already got it."
The news of the Pentagon deal wasn't the only thing boosting BlackBerry stock this week, as some are beginning to feel that new CEO John Chen could be able to successfully turn the company around by ditching consumer smartphones to become a provider of enterprise services.
A favorable report from Citron Research, which called for a $15 minimum on BlackBerry's stock, also helped drive the gains made this week. Citron said that investors should no longer look at BlackBerry as a device maker, but as a provider of enterprise services. The firm said that it is completely confident in Chen's ability to turn BlackBerry around by giving up on trying to win back the consumer smartphone market. "It is Citron's opinion that it is suicidal to bet against well-capitalized strong management in the enterprise mobile space," the firm said.
BlackBerry stock was down almost 5 percent to $9.95 in pre-market trading on Friday morning after closing at $10.45 on Thursday, so it seems like the stock will go back down now that it's known the Pentagon 'deal' isn't exactly what it was reported to be.
More From Wall St. Cheat Sheet:
Follow Jacqueline on Twitter @Jacqui_WSCS