Sunny Forecast Pushes Facebook to Record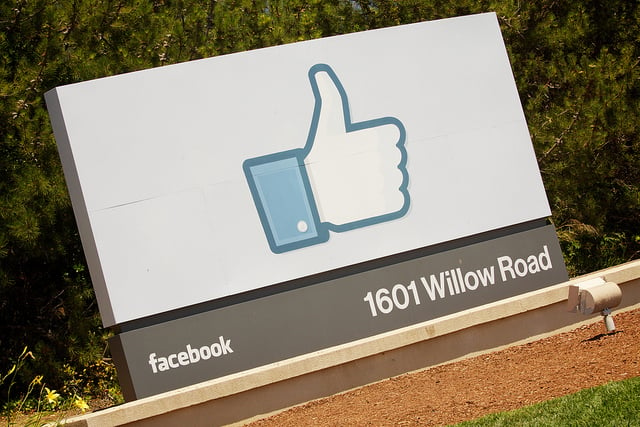 Facebook (NASDAQ:FB) shares closed at a record on Wednesday afternoon after positive notes from two analysts said they expect the company to begin charging even more to advertise on the world's largest social network. The stock closed at $58.23, beating its previous highest close of $57.96 on the day before Christmas.
According to a report from Bloomberg, analysts from Deutsche Bank AG and SunTrust Robinson Humphrey Inc. published notes to investors this week saying that Facebook has plans to continue increasing the monetization of its mobile app and drive user engagement with the service.
"Monetization is firing on all cylinders according to our checks, and we wouldn't be surprised to see ad revenue growth re-accelerate," said Deutsche Bank analyst Ross Sandler, per the news service. "Engagement continues to increase broadly for Facebook, owing to the strong footprint in mobile." Sandler has a Buy rating on the stock.
SunTrust analyst Robert Peck cited Facebook's recent decision to limit the number of ads it shows its users and in turn charge more for the limited slots as the reason for the firm's optimism about Facebook.
"Wall Street didn't know how they were planning to grow revenue, and now you're seeing that pricing has more than compensated as there's more and more demand for their ad units," Peck said in an interview with Bloomberg. Peck raised his price target on the stock from $55 to $65.
After Facebook's third-quarter earnings report, some expressed the concern that the company was cramming too many ads into users' News Feeds, which was driving away users in general and teens in particular.
JPMorgan analyst Doug Anmuth said in October when Facebook reported its financials that he doesn't believe the increased ad load is what's driving away teens. Peck has gone so far to say that whether Facebook is losing teen users doesn't even matter. "Teen usage concerns are overblown, as Facebook has crossed the chasm from 'cool app' to a utility," Peck told Bloomberg.
Facebook shares were trading at $57.81 at the time of writing on Thursday morning. Facebook is due to report its fourth-quarter results on January 29.
More from Wall St. Cheat Sheet:
Follow Jacqueline on Twitter @Jacqui_WSCS