T-Mobile Offers Cheaper International Data: Whenever, Wherever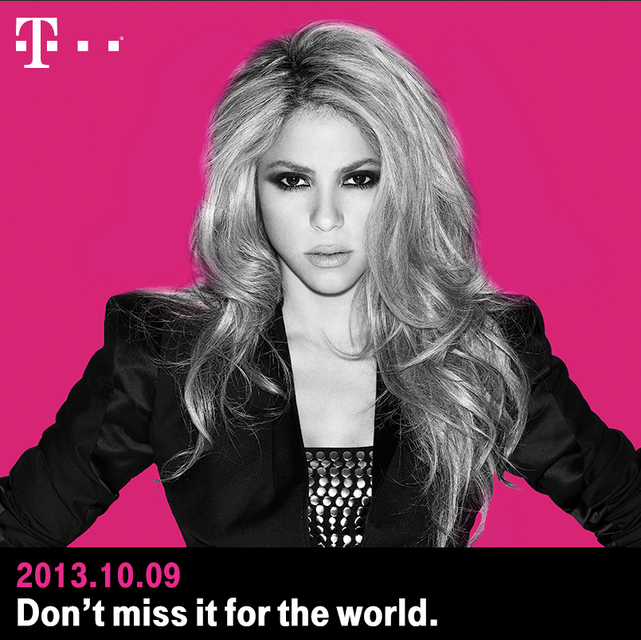 T-Mobile (NYSE:TMUS) has announced a new partnership with Latina pop star Shakira to promote the company's new Simple Global plan, which offers unlimited global data and texting in 100 countries to qualifying customers at no extra charge. Shakira performed to a crowd of 7,500 at Bryant Park in New York on Wednesday to kick off the collaboration.
T-Mobile and Shakira will work together to promote her music and its wireless service. T-Mobile will help market Shakira's upcoming album and she will work with the company on creative marketing for both its services and her charity The Barefoot Foundation, which helps build schools for disadvantaged children in her native Columbia and around the world.
"Today is all about bringing the world closer together," said Shakira. "I'm excited to partner with T-Mobile and look forward to being able to share my music in new and innovative ways."
"Shakira is an extraordinary global entertainer who certainly understands the importance of being connected while she travels the world," said Mike Sievert, CMO, T-Mobile. "She has a passion for communicating with her fans across many platforms and we knew that we could create a collaborative partnership to reach her fans and our customers in unique and exciting ways."
According to a report from Bloomberg, T-Mobile is the first major wireless carrier to offer unlimited international data. T-Mobile's early upgrade plan Jump and plans that allow customers to pay for smartphone devices in monthly installments were copied by T-Mobile's rivals AT&T (NYSE:T), Sprint (NYSE:S), and Verizon Wireless (NYSE:VZ), so it's reasonable to expect that other telecom companies will follow suit in the near future.
"I don't care if the others copy us," T-Mobile CEO John Legere said in an interview with Bloomberg on Wednesday, regarding the new data plan. "If AT&T and Verizon tried this it would be a negative hit to their profitability."
Follow Jacqueline on Twitter @Jacqui_WSCS
Don't Miss: Meg Whitman's 6 Steps to an HP Turnaround.