The Internet Stock Boom in China Continues
More of the same as the hot money goes into the same group of stocks – this has been the "go to" area the past month.
Perfect World (NASDAQ:PWRD) +10.5%
E-Commerce China Dangdang (NYSE:DANG)  +15%
Qihoo 360 Technology (NYSE:QIHU) +8.3%   [recent IPO]
Sohu.com (NASDAQ:SOHU) +2.6%
Changyou.com (NASDAQ:CYOU) +6%
Sina (NASDAQ:SINA) +4.7%
Youku.com (NYSE:YOKU) +4%
The valuation on some of these such as YOKU and QIHU has moved from ridiculous to absurd, but it doesn't matter in a "momo" world.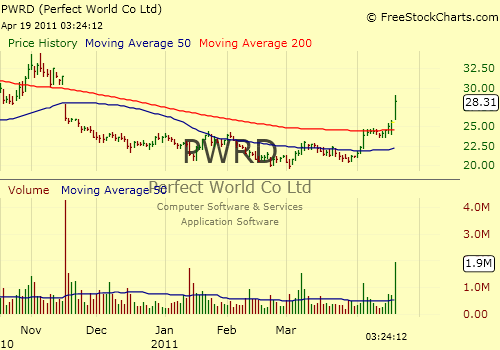 As for the greater market we've drift back up to the 50 day exponential moving average.   Buy the dip still wins as yesterday's dip buyers should be congratulated for the Pavlov dog response.  At this time, a break of S&P 1295 is needed for bears to continue their recent winning streak.
Disclosure: No position
Follow the latest from earnings season here>>
This is a guest post written by Trader Mark who runs the blog Fund My Mutual Fund.
Improve Your 2011 Financial Health: Join the winning team of stock pickers with Wall St. Cheat Sheet's acclaimed premium newsletter >>