Travelzoo Shares Higher on a 7% Monday Surge
I wrote about Travelzoo (NASDAQ:TZOO) Friday and how it had been scorching any bears who dare show their face.  Today it is up another 8-9% and sits 36% above the 20 day moving average.  For the very nimble there might be a shorting opportunity here… as they say, it is a bit "extended".  Usually when a name moves this far away from any form of support, it comes in…. err, unless it is silver.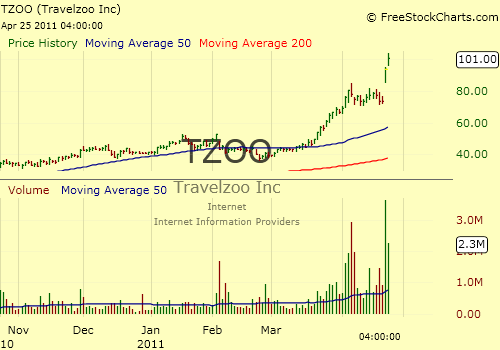 Competitors to Watch include: Expedia (NASDAQ:EXPE), priceline.com (NASDAQ:PCLN), Orbitz (NYSE:OWW), eLong (NASDAQ:LONG), Ctrip.com (NASDAQ:CTRP), Google (NASDAQ:GOOG), Deltar Air Lines (NYSE:DAL), Alaska Air Group (NYSE:ALK), US Airways (NYSE:LCC), United Continental (NYSE:UAL), Southwest Airlines (NYSE:LUV), Hawaiian (NASDAQ:HA), JetBlue (NASDAQ:JBLU) and AirTrain (NYSE:AAI).
Travelzoo Inc. (NASDAQ:TZOO) is a global Internet media company. With more than 22 million subscribers in North America, Europe, and Asia Pacific and 23 offices worldwide, Travelzoo® publishes deals from more than 2,000 travel and entertainment companies. Travelzoo's deal experts review offers to find the best deals and confirm their true value.
Disclosure: No position
Follow the latest from earnings season here>>
This is a guest post written by Trader Mark who runs the blog Fund My Mutual Fund.
Improve Your 2011 Financial Health: Join the winning team of stock pickers with Wall St. Cheat Sheet's acclaimed premium newsletter >>