Watsa Still Loves BlackBerry; T-Mobile Is Breaking Up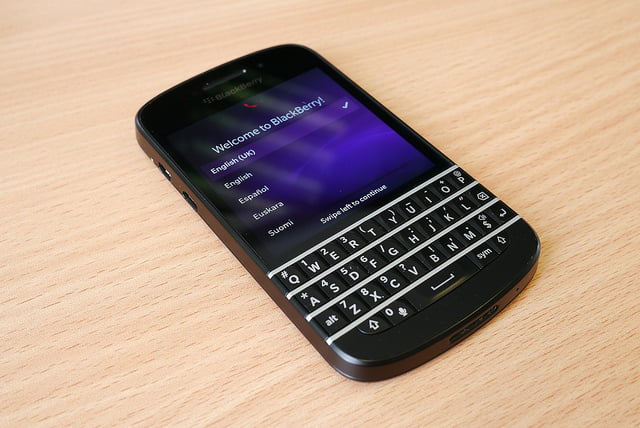 It's another day with more bad news for BlackBerry (NASDAQ:BBRY). Shares of the struggling smartphone maker fell during Wednesday trading on uncertainty that its buyout by Fairfax Financial Holdings would go through, and now, T-Mobile US (NYSE:TMUS) has announced that it will no longer carry BlackBerry devices in its stores.
On Wednesday, T-Mobile executive David Carey told Reuters that "keeping stock in the retail distribution system was inefficient" because demand for the devices has been so low. Carey went on to say to that the most interest in BlackBerry devices has come from business customers, who don't usually shop in T-Mobile's retail stores.
Meanwhile, BlackBerry has been quiet about the $4.7 billion buyout offer from Fairfax, the company's biggest shareholder, leading to speculation that the deal would not go through. Fairfax CEO Prem Watsa took to the press on Wednesday to assure investors that his company's offer is still firmly on the table.
"We wouldn't put our name to such a high-profile deal if we didn't feel confident that at the end of the day that our due diligence would be fine and we'd be able to finance it," Watsa said to Reuters.
Fairfax announced the $9 per share offer on Monday, saying that BlackBerry would have the best chance to recover as a private entity. "BlackBerry is one of Canada's great success stories," Watsa said in his interview with Reuters. "There is no question it's fallen on hard times recently, but we have every confidence it will be successful again. We're putting a consortium together to make sure that that takes place."
Fairfax's offer wasn't really much of a surprise, as Watsa stepped down from BlackBerry's board due to a potential conflict of interest in August, when the company announced it was pursuing "strategic alternatives" that included a possible sale. Watsa told the Associated Press that Fairfax will not abandon or renegotiate the terms of the offer, citing the company's 28-year history of never having done so. He also said that it is not Fairfax's intention to split up the company.
That consortium has until November 4 to conduct due diligence, and BlackBerry has until then to keep looking for other buyers.
Follow Jacqueline on Twitter @Jacqui_WSCS
Don't Miss: Why Is T-Mobile Looking to Merge with Sprint?