What Plans Does This Samsung Exec Have to Topple Apple?
Although Samsung's (SSNLF.PK) products are sometimes viewed as cheaper, utilitarian versions of higher-quality, better-designed Apple (NASDAQ:AAPL) devices, that perception may soon change. This week, Forbes' Haydn Shaughnessy interviewed Dong-hoon Chang, who is one of the chief architects of Samsung's current design philosophy. Chang is a former professor and the current "EVP and Head of Design Team, IT & Mobile Communications division, and Head of Design Strategy Team, Corporate Design Center, at Samsung Electronics."
Chang described Samsung's current design philosophy with the moniker of "Design 3.0." According him, "'Design 3.0' is a third-phase design strategy that is aimed at creating new and meaningful product-service experiential value and lifestyles for users, thereby going beyond exterior style and convenient use." In this sense, Samsung seems to be stepping beyond a basic utilitarian design ethos and venturing into a "lifestyle" design approach, similar to what Apple has established in its ecosystem of products.
Samsung even has a similar corporate structure for organizing its design efforts. Chang told Forbes that "the establishment of the Corporate Design Center in 2001, which would report directly to the CEO, allowed the company to take a more holistic approach to design." Shaughnessy noted that Apple's design teams also directly report to the CEO of the company.
Similar to Apple, Chang describes Samsung's design as "based on minimalism." However, Samsung is also striving to incorporate what Chang calls "structural innovation that combines Samsung's unique style and new technologies."
Chang seemed intent on creating more of a distinctive and recognizable style for Samsung's products. "Design works in concert with the company's engineering, product planning and marking functions. We aim to provide a seamless, convenient experience to consumers across our eco-system of products," stated Chang. But Only time and consumer reaction will tell whether Chang's Design 3.0 philosophy will enable Samsung to become the new leader in technology design innovation.
Apple shares closed at $390.50 on Friday after shedding $1.55, or 0.40 percent, from its price at the opening bell.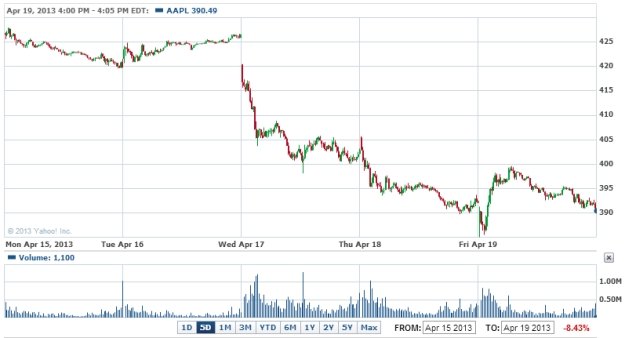 Don't Miss: Is Penguin Abandoning Apple?