Which Cell Phone Provider Is the Best?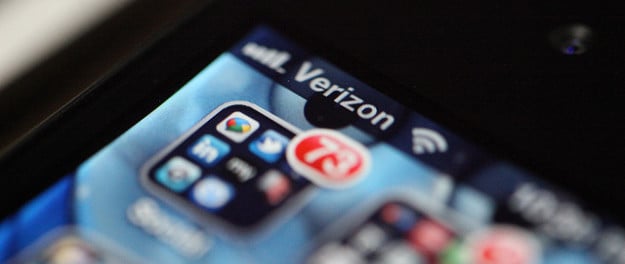 It's hard to believe that cell phones have now been around for more than 40 years. The first cell phone was created by Martin Cooper and his Motorola team in 1973. The phone, called DynaTAC, wasn't actually sold to consumers for another decade. Now, three decades later, cell phones are an integral part of people's lives. In fact, 91 percent of Americans own a cell phone. With so many people using these devices, cellular companies are raking in the dough. Many Americans become loyal customers of specific carriers due to habit, because they like a particular phone offered, or because of excellent customer service.
Yet, people often grumble about the reliability, cost, or plan availability of their particular provider. The task of finding a new carrier can be daunting, but 10TopTenREVIEWS came out with a ranking of the best providers for 2014 that is a great place to start. According to the research, Verizon Wireless (NYSE:VZ) is the best overall carrier, followed by AT&T (NYSE:T), and then T-Mobile (NYSE:TMUS). The article below includes a summary of the top five ranked carriers.
1. Verizon Wireless
Verizon takes the number one spot with an overall ranking of 8.58/10. The company covers 98 percent of Americans. The carrier also has 100 percent coverage in urban areas, 95 percent in rural areas, offers 4G LTE in 506 markets, and offers superb customer service. Verizon's contracts and the number of days allowed to return a phone are similar to other carriers. Although AT&T has slightly higher 4G download speeds, Verizon earned overall better rankings. The main issue with Verizon is the cost of the plans, which can get very expensive. However, when one weighs the many benefits of Verizon, the cost seems somewhat less important.

2. AT&T
AT&T ranks just below Verizon with an overall ranking of 8.5/10. As mentioned before, AT&T has the fastest 4G LTE speeds, and it also offers many different phones. However, while 4G LTE speeds are excellent, the coverage only includes 424 markets. In addition, while AT&T offers many plans, those plans can be expensive. Further, the company's network is not as strong as Verizon's, and rural coverage can be especially lacking, with only 75 percent of rural areas covered. AT&T earned an 85 for customer service, which amounts to a steady B compared to Verizon's A+.

3. T-Mobile
Coming in at number three is T-Mobile — which you might recognize from the awesomely hilarious Bill Hader commercials that have launched over the past few months. T-Mobile received an 8.38/10 overall ranking because of the carrier's unlimited data plans and affordable prices. However, the coverage is not as strong as Verizon or AT&T offers, with only 75 percent of urban areas and 50 percent of rural areas covered. T-Mobile only has 143 4G LTE markets, but the download speeds are just a hair behind Verizon. Another negative for the carrier is the ranking it received on customer service, which came in at only 45 percent. Still, T-Mobile is an affordable carrier if it is available in your location.

4. Sprint
With an overall rating of 7.75/10, a low customer service score (50 percent), and spotty coverage (65 percent in urban areas and 55 percent in rural areas), Sprint (NYSE:S) certainly isn't on the same playing field as Verizon and AT&T. Still, it offers unlimited data as well as international calling. Sprint also features many different phones with various capabilities. Sprint family plans are also popular, and although the network is not always solid, Sprint is offered nationwide. This is particularly effective for people who travel frequently or families with college-age children.
For the past few months, the company offered a program called Sprint One Up, but that ended January 9. The program used to allow customers who purchased an eligible smartphone while agreeing to pay 24 monthly installments for the device to trade the smartphone in after 12 consecutive months of payment. Customers would then be given a new smartphone and a new contract. Although the plan has ended, if Sprint brings this plan back, this deal could greatly increase its customer base.

5. MetroPCS
MetroPCS's (NYSE:PCS) excellent customer service helped earn it a 7.53/10 ranking. The company received a 90 percent for customer service, second only to Verizon. MetroPCS also happens to be a prepaid cell phone carrier, which equals no contracts. After the initial price of the phone, the monthly plans are affordable, starting at $40 per month. MetroPCS also offers unlimited text, data, and talk on a 4G network, as well as discounts when families have multiple phones on one account. The company does have limited coverage, including 75 percent of urban areas and 50 percent of rural areas. The carrier is now owned by T-Mobile and runs on its network.
The article also ranks Aio Wireless, Cricket Wireless (NASDAQ:LEAP), Boost Mobile, U.S. Cellular (NYSE:USM), and CREDO Mobile. One additional cell phone provider that is not mentioned in the ratings is Tracfone. Tracfone offers prepaid options as well as monthly plans. For some people, the prepaid option can be perfect. Consumers can choose from many different phones and must purchase minutes regularly, depending on which plan they select. The service days expire after a certain amount of time (30 days, 60 days, 90 days, or up to a year.) The prepaid option can be ideal for people who work from home and have a land line; others who may want a cell phone for only emergencies; or for young children. Many of the phones also have text and internet capabilities.
More From Wall St. Cheat Sheet: