Whole Foods Cooks Up a Deal With Mobile Payment Startup Square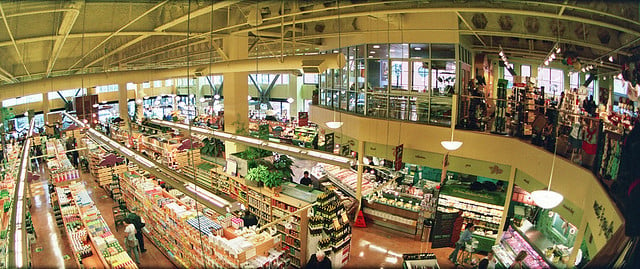 Things at Whole Foods Market (NYSE:WFM) are about to get a little more digital. The popular grocer announced last week that it is partnering with mobile payments startup Square to allow customers to pay for groceries using their iPads and smartphones.
According to the Washington Post, Whole Foods plans to roll out the technology first at select stores. At those locations, the company's sandwich counters, pizzerias, and coffee, juice, wine, and beer bars will be outfitted with Square Register, an iPad-based system through which cashiers ring up payments and swipe customer credit cards. Customers can also download Square Wallet, a smartphone app linked to their credit cards that lets them make their transactions by scanning a QR-code to pay instantly.
Employing Square will allow the grocer to facilitate faster transactions and cut its wait times. Using iPad-based payment systems inside Whole Foods at counters that sell ready-to-consume products — from pizza and sandwiches to coffee, beer, and wine — allows customers to make quick payments and avoid long checkout lines with customers who have cartfuls of groceries. Those in line are also expected to make their payments faster, as they no longer will have to dig into the depths of their wallets to pay but rather simply flash their smartphones.
Whole Foods now is the second national retail chain to jump onboard the Square train, following in Starbucks's (NASDAQ:SBUX) footsteps. The coffee company also accepts payments through Square Wallet and has reaped the benefits of shorter checkout lines on account of faster transactions.
According to Time, Square CEO Jack Dorsey said in December that his company's products, the Square Register iPad app and Square Stand iPad point-of-sale setup, weren't designed for small businesses but for big companies, too, and it looks like bigger corporations are finally starting to believe him. Securing two high-profile partnerships with Starbucks and Whole Foods will undoubtedly help the Dorsey's cause and prove to onlookers that the new technology can support successful chains.
The ambitious chief executive told Time in 2013: "We've always tried to build a tool that scales from an individual — a massage therapist or yoga instructor — all the way up to the largest organizations in the world. We believe, fundamentally, that they should be using the same tools. And therefore the only limit is their ambition."
Whole Foods junkies won't immediately see the new payment technology pop up in stores, as the chain is planning a slow launch, but sooner rather than later, you'll be paying for your organic groceries with your smartphone rather than your credit card. That in itself is something to get excited about.
More From Wall St. Cheat Sheet: