Why Does Goldman Sachs See Limited Upside for Sina?
An interesting call by Goldman Sachs (NYSE:GS) this morning on Sina (NASDAQ:SINA).  I am not sure why you bother to downgrade anything nowadays since the market can only go up or sideways.  Plus with Twitter increasing by seemingly a billion a month in value, each time it jumps in value the Chinese (NYSE:FXI) version of it should be worth more, no? ;)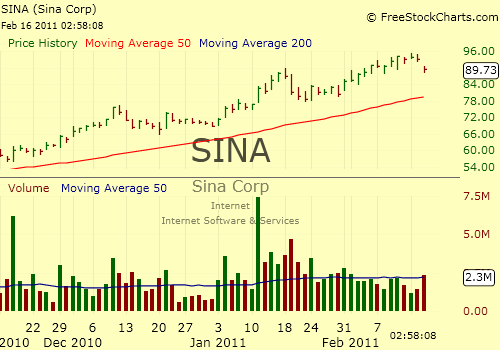 Via Forbes:
Sina (NASDAQ:SINA) shares are trading lower this morning after Goldman Sachs (NYSE:GS) analyst Catherine Leung cut her rating on stock to Neutral from Buy, asserting that the implied valuation for Weibo, its Twitter-like mini-blog platform, has reached $2 billion, based on her estimate of the valuation of the rest of the company's businesses. And that, she suggests, is plenty.
"Although we believe Sina has maintained Weibo's solid user-growth momentum and encouraged its ecosystem development through apps and improved functionality, thereby also improving Sina's portal properties, we see limited upside to Weibo's valuation because monetization remains in an early, more exploratory stage," she writes.  Adds Leung: "We see limited upside to the stock until Weibo is monetized more meaningfully."
This is a guest post written by Trader Mark who runs the blog Fund My Mutual Fund.
Improve Your Financial Health: Join the winning team of stock pickers with Wall St. Cheat Sheet's acclaimed premium newsletter >>