With Mobile on Lockdown, Facebook Looks to Big Bets for Growth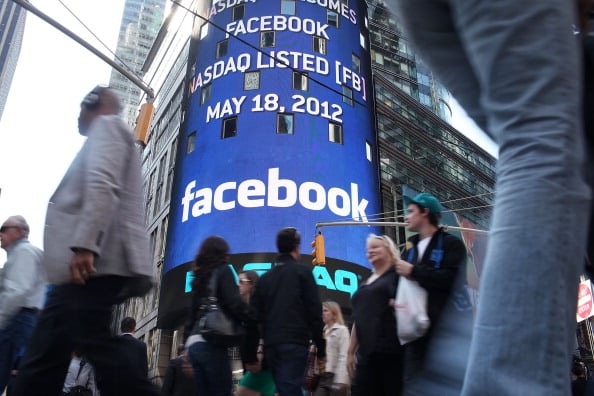 Shares of Facebook (NASDAQ:FB) surged higher in pre-market trading after reporting strong first-quarter results. Revenue of $2.50 billion was up 72 percent on the year and beat the mean analyst estimate of $2.36 billion. Top-line growth was driven by an 82 percent year-over-year increase in advertising revenue to $2.27 billion, accounting for 96 percent of total revenue. Payments and other fees of $237 million were up 11.3 percent on the year.
Within advertising, Facebook continued its effective monetization of mobile traffic. Mobile advertising accounted for 59 percent of of total advertising revenue, up from 30 percent in the year-ago period, when the question of whether or not Facebook would crack the mobile ad code was still paramount. Now, the point is moot. Facebook's mobile ad monetization is on its way to matching its mobile usage. Mobile monthly active users (MAUs) of 1.01 billion, up 34 percent on the year, or about 79 percent of total users.
Facebook's success in mobile is not only evident in its internal numbers — market research firm eMarketer calculates Facebook's share of the total mobile ad market at 17.5 percent in 2013, up from just 5.4 percent in 2012. Moreover, eMarketer forecasts Facebook's share of the total market to increase to 21.7 percent in 2014, placing it leagues ahead of Twitter (NYSE:TWTR), which claimed 2.4 percent of the market in 2013 and is expected to claim 2.6 percent in 2014.
Better yet, eMarketer projects that total mobile Internet ad spending will increase 75.1 percent in 2014 to $31.45 billion, and by 45.8 percent in 2015 to $45.85 billion, eventually reaching $94.91 billion in 2018. This enormous growth in overall spending makes Facebook's market share all the more valuable.
Still better yet, Facebook has reportedly laid the foundation to take another leap forward in mobile monetization. On April 30, Facebook is set to host its F8 developer conference in San Francisco. According to "multiple sources" who spoke with Re/code on the condition of anonymity, that's when the social giant is planning to unveil its latest revenue-generating endeavor – a mobile ad network.
Facebook already displays mobile ads on its site and in its apps. The ads it will sell through its mobile ad network will be similar to those, but developers and publishers will be able to put them in apps of their own. The reason someone might choose to use Facebook's ad network over any other is because of Facebook's extensive knowledge about its customers' interests and activities, which should result in ads that are more relevant, and more likely to be clicked.
But Facebook's position in the mobile ad market, as critical as it is to the business, is already starting to look like what search advertising is to Google (NASDAQ:GOOG), which is the boring core business behind the more interesting, forward-reaching stuff. (Fun fact: Google claimed a commanding 49.3 percent of total mobile ad spending in 2013.) Just as the conversation about Google right now is as much about its acquisition spree as it is its search business, the conversation about Facebook is as much about its own acquisition spree as it is about its mobile ad business.
Facebook Founder and Chief Executive Officer Mark Zuckerberg highlighted the issue in the earnings release, saying that, "We've made some long-term bets on the future while staying focused on executing and improving our core products and business."
These "long-term bets" include Occulus Rift and WhatsApp, which Facebook spent a combined $21.3 billion on in cash and stock (mostly stock.) The acquisitions clearly reveal what kind of strategy Facebook's executive team is entertaining: aggressively acquiring companies that can expand or enhance core products and services, or offer entrance into a new market.
Another recent example for Facebook are reports that the company has been quietly working on a new scheme in which it will provide financial services like remittances and electronic money. According to The Financial Times, the social media giant will begin offering the services in Europe, where it is just weeks away from obtaining regulatory approval from the Central Bank of Ireland for the new service, which would allow Facebook users to pay and exchange money with others.
More From Wall St. Cheat Sheet: