Munster: Apple's Upcoming Products Will Be the 'Best in 25 Years'
When it comes to the hype building up around Apple's (NASDAQ:AAPL) upcoming product launches, there is at least one analyst who believes that the Cupertino-based company will deliver on its promises. In a recent appearance on CNBC's "Closing Bell" program, Piper Jaffray analyst Gene Munster said that he believes the bold declarations made by two prominent Apple executives about the strength of the company's current product pipeline.
Munster was referring to a comment originally made by Apple senior vice president of Internet software and services Eddy Cue at Re/Code's first annual Code Conference in May. "Later this year…we've got the best product pipeline that I've seen at Apple in my twenty-five years at Apple," boasted Cue in a video of the conference provided by Re/Code. More recently, CEO Tim Cook said that he agreed with Cue's statement during an appearance he made on "Closing Bell" earlier this week to discuss Apple's new enterprise mobility partnership with IBM (NYSE:IBM).
While it's no surprise that Apple executives would lavish praise on the company's upcoming products, it should be noted that the twenty-five year time span cited by Cue and Cook would include such game-changing products as the iPod, the iPhone, and the iPad. In other words, the "best in 25 years" sets an incredibly high bar for Apple's next generation of products. However, Munster doesn't think the executives' comments are mere hyperbole. "Based on what we have pieced together, I think it will [be the best product pipeline in 25 years]," said Munster via CNBC. "Tim Cook's comments yesterday really are amping up those expectations about [what] Apple should deliver in the back half of the year."
Among the products and services that Munster sees coming from Apple in the coming months is a 4.7-inch iPhone, a phablet-sized iPhone, a new mobile payments system, a so-called "iWatch" wearable tech product, and a television. Based on several supply chain leaks and reports from various media outlets, it seems likely that most of the products cited by Munster are being developed by Apple.
Rumors of the two larger screen iPhones have been widely reported by multiple media outlets, with most sources pegging the screen size of the phablet iPhone at 5.5 inches. Although it was initially believed that both devices would debut at the same time this fall, the latest rumors from Apple's supply chain suggest that the larger iPhone model may not be launched until early 2015. Munster said he believed the larger iPhone would be released within the next six months.
Munster also reiterated his belief that the iPhone 6 would include Near Field Communications (NFC) technology to enable a new wireless payment system.  Several industry watchers have predicted that Apple will leverage its nearly 800 million active iTunes accounts into a mobile payments service of some kind. Although Munster didn't offer any new evidence for his claim, insider sources cited by BrightWire previously predicted that the iPhone 6 would include an NFC chip.
Various media outlets have also cited insider sources that claim Apple is planning on launching a wrist-worn wearable tech device later this year. The iWatch is expected to feature multiple health-monitoring and fitness-tracking sensors that will collect data for Apple's HealthKit data storage platform.
Finally, rumors of an Apple television have been circulating ever since it was revealed that Steve Jobs once told his biographer about his desire to make an "integrated television set that is completely easy to use," as reported by The Washington Post.  Munster has consistently predicted the arrival of the Apple television over the past several years and he still believes it is in the works.
However, perhaps because the product has failed to materialize during the last few years that he predicted its arrival, Munster declined to offer a specific release window for an Apple television and only stated that, "Whether it's this year, that's hard to say, but I think that's something else. So, if you put all that together, it looks like that comment about 'best in 25 years' makes sense."
Despite being bullish on Apple, Munster was surprisingly unenthusiastic about the benefit of Apple's recently announced partnership with IBM. "We do not expect the IBM partnership to have a meaningful impact on Apple's financials overall primarily based on our belief that large corporations are already utilizing iPhones," wrote Munster in a recent note to investors obtained by Apple Insider. "We believe that IBM will add incremental functionality for corporate customers, but is unlikely to be the make or break factor for a large corporation in utilizing iOS."
The Piper Jaffray analyst currently has an "Overweight" rating and a $105 price target on Apple shares. Here's how Apple has traded so far today.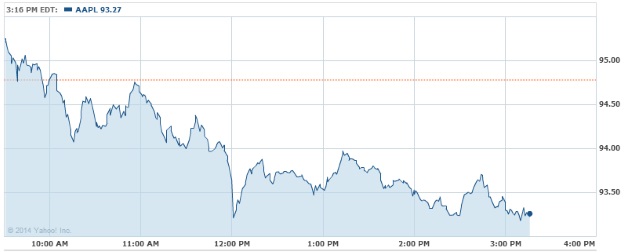 More from Wall St. Cheat Sheet:
Follow Nathanael on Twitter (@ArnoldEtan_WSCS)
[mediagraph-partner content_url="c3d1f79f983757e8820f3221″]