Munster: Low-Cost iPhone Not a Reason For Worry
Renowned Piper Jaffray analyst Gene Munster believes that investors are overestimating the negative impact that a low-cost iPhone would have on Apple's (NASDAQ:AAPL) gross profit margins. Many industry analysts have been calling for Apple to release a low-cost iPhone in order to better compete in emerging markets against rivals such as Samsung (SSNLF.PK).
However, there have also been concerns that a low-cost iPhone would adversely affect Apple's overall profit margins by cannibalizing sales of its premium iPhones which have a higher profit margin. When Apple released the iPad mini, it likely lost some sales revenue that it would have otherwise gotten from its full-sized iPad which also had a higher profit margin.
Some investors even believe that Apple's overall profit margin could drop below 30 percent. These concerns are buoyed by the overall trend of Apple's decreasing profit margins since last year. In June 2012, Apple reported a 42.8 percent profit margin. By March 2013, this margin had dropped to 37.5 percent.
In a note to investors, Munster outlines the reasons why he believes Apple's gross profit margins will not drop below 30 percent. "While we believe iPhone margin is stable, we can build a case for a 32 percent gross margin in 2015 (Street at 37 percent), but it would require a nuclear meltdown in Apple's model including 50 percent cannibalization of the regular iPhone from the cheaper iPhone, a 15 percent margin on the cheaper phone, and a 10 percent margin on the TV," explained Munster in his note via Apple Insider.
Munster believes that the current iPhone profit margin sits at about 55 percent. According to Munster's calculations, even with a 50 percent cannibalization rate on the flagship iPhone, the low-cost iPhone would still only decrease Apple's overall profit margins by 40 basis points in 2014 and 140 bps in 2015. Munster's worst-case scenario predicts Apple's gross profit margin to drop to 33.9 percent in 2015 from the impact of a low-cost iPhone release.
For these reasons, Munster maintains his Overweight rating on Apple stock. However, due to a 5 percent drop in predicted earnings per share for 2014, Munster has lowered his target price from $688 to $655.
Here's how Apple has traded over the past year.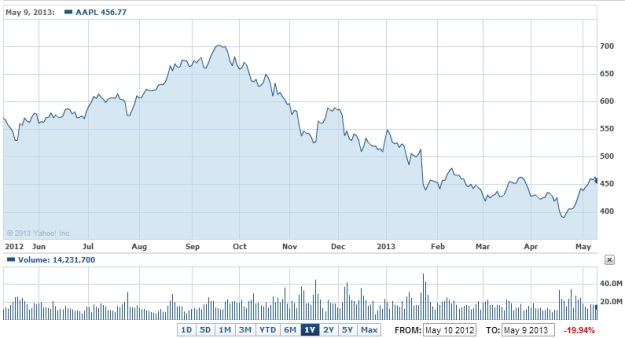 Don't Miss: Apple Is Getting Swamped in These Smart Mobile Stats.