Need For Greater Internet Speed? Cisco's On It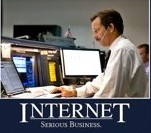 Internet traffic is expected to triple over the next five years, but have no fear, because Cisco Systems Inc (NASDAQ:CSCO) is here.
Today, more and more customers are looking to stream videos, download apps, and social network with their peeps (sometimes all at once) — and they want to do it fast. Because patience is so last century, after all.
Wireless carriers and Internet service providers are scrambling to manage the mania. However, luckily, CNN reports that Cisco is responding to this "insatiable demand" and working on a new core router technology, CRS-X, that it revealed Thursday. CRS-X promises to provide speeds of 400 gigabits per second for each slot on the router's rack and Cisco explains, "Each rack is scalable up to 6.4 terabits per second, and the entire CRS-X system is capable of nearly 1 petabit per second if multiple racks are set up in tandem."
Luckily, that really clears things up.
If you'd like a translation, CNN simply offers: That is double the speed that currently exists on the market.

It then goes on to explain the fundamentals behind core routers — the technology that Cisco is currently developing. These routers "sit at the epicenter of the Internet" and direct users to where they want to go, before sending the data back to the right place in return. The routers, which CNN compares to traffic cops, are crucial to the functionality of the Internet, which is good news for Cisco, considering it has the most CRS customers and controls a solid 65 percent share of the core routing market.
Don't Miss: 3 Ways Baby Boomers Are Redefining Retirement.