Netflix Leaves 2011 Problems in the Dust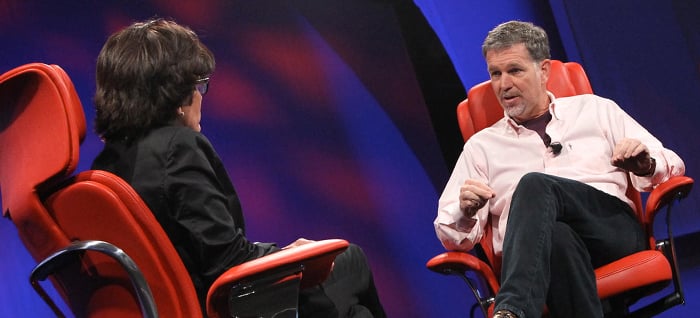 Netflix (NASDAQ:NFLX) seems to have finally recovered from difficulties the company faced in 2011 when Chief Executive Officer Reed Hastings decided to separate the company's streaming and DVD-renting options into separate subscription plans, angering customers and causing the stock to plummet.
Netflix stock reached an all-time high of $311.65 during trading on Tuesday, dropping slightly to $310.15 at the time of writing. The company's previous high was $304.79, which it reached during trading on July 13, 2011, according to a report from Bloomberg.
Back in 2011, Netflix lost 800,000 subscribers when it separated its streaming and DVD services. The company has managed to win back users through numerous content deals and creating its own original series. Netflix series House of Cards, Hemlock Grove, and Arrested Development are all nominated for Emmys this year, and the new prison drama Orange is the New Black has received excellent critical reception.
Carl Icahn and Liberty Global's (NASDAQ:LBTYA) John Malone are among those investors riding the Netflix high. Icahn's stake in the company has increased five times, growing to $1.7 billion in less than a year, according to estimates compiled by Bloomberg.
"We still own it, we haven't sold a share," Icahn said on Monday in a Bloomberg TV interview. "I still think it's a good buy, but certainly it's not what it was when it was $58."
Netflix is working with Liberty Global's Virgin Media to offer its streaming services through Virgin cable in the U.K., the first ever collaboration between Netflix and a pay-TV provider. John Malone's cable empire through Liberty has 22 million subscribers around the world. The move could qualm some fears that online TV streaming services such as Netflix are slowly killing pay-TV.
Netflix also recently overcame a shareholder suit related to the 2011 missteps. Some shareholders sued the company, saying that Netflix purposefully covered up the losses it faced back in 2011, but a federal judge threw out the case for a second time last month. Netflix said that the loss didn't have a long-term effect on the stock, and the judge said the plaintiffs don't deserve a third chance to continue pursuing the case.
Some investors cited by Bloomberg are still feeling cautious about the stock as Netflix still has a few problems to face including spending to expand to reach Hastings's goal of 90 million U.S. subscribers, the growing cost of content licensing, and the tendency of friends and family to share each other's Netflix accounts instead of paying for them separately. But, for now, it seems like Netflix has left its 2011 problems in the dust.
Follow Jacqueline on Twitter @Jacqui_WSCS
Don't Miss: 3 Big Football-Shaped Boosts for TV Networks this Weekend.