Netflix to Take It Slow and Steady With New Tiered Pricing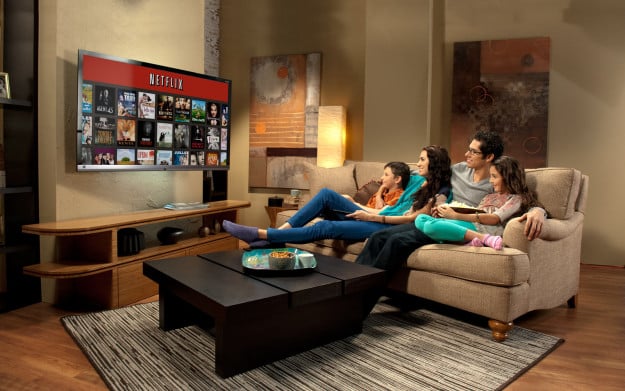 Netflix (NASDAQ:NFLX) reported yet another stellar quarter of financials after the closing bell on Wednesday and announced that it plans to move forward with a three-tier pricing system that will charge subscribers based on the number of devices on which they'd like to have the ability to simultaneously stream programming.
"Last April we introduced a 4-concurrent stream $11.99 option to begin our evaluation of plan tiering. Since late last year, we have also been testing 1-stream and 3-stream variants, as well as SD/HD variations, at various price points. Eventually, we hope to be able to offer new members a selection of three simple options to fit everyone's taste," CEO Reed Hastings said in the company's earnings release.
At the end of last year, it was reported that Netflix's signup page had begun including three different pricing options for new members. The individual plan allows content to be streamed on one device at a time and costs $6.99 per month, a drop of $1 from current streaming plans. The standard plan costs $7.99 per month and allows members to stream on two devices simultaneously. The family plan costs $11.99 a month and allows streaming on up to four different devices at the same time.
This is Netflix's way of coping with the increasing trend of subscribers sharing their usernames and passwords with friends and family. Hastings spoke about the shared accounts problem during the company's earnings call in April, according to Market Watch. "We usually like to think that a husband and wife can share an account and that that's perfectly appropriate and acceptable," he said at the time. "If you mean, 'Hey, I got my password from my boyfriend's uncle,' then that's not what we would consider appropriate."
"We try to make our pricing as straightforward as possible. But it's not clear that one price fits all," Hastings said during the company's earnings call on Wednesday, according to Gigaom. He also said that the tiered pricing won't involve customers who pay more, receiving access to more content, but will just focus on the number of devices from which programming can be streamed.
Netflix understands that it has to tread carefully with initiating these changes in order to avoid angering subscribers who are used to having the ability to simultaneously stream from an unlimited number of devices. The company didn't give a time frame for when the price changes will occur, and it seems to be taking it slow.
"If we do make pricing changes for new members, existing members would get generous grandfathering of their existing plans and prices, so there would be no material near-term revenue increase from moving to this potential broader set of options. We are in no rush to implement such new member plans and are still researching the best way to proceed," the company said in its earnings release.
Netflix reported another quarter of subscriber growth on Wednesday, driven by the streaming service's incredibly popular lineup of original programming. Netflix is changing the outdated pay-TV industry on multiple levels. The service is much cheaper than traditional cable or satellite, allows for convenient streaming anytime and anywhere, makes recommendations for programming based on previous choices, rids TV of commercial breaks, made binge-watching popular, and can take more risks with its original shows than cable can.
If Netflix can convince subscribers that it's worth it to pay the extra $4 for the ability to stream on more screens at once, then the company will see even stronger financial results in the future, which is even more good news for shareholders.
More from Wall St. Cheat Sheet:
Follow Jacqueline on Twitter @Jacqui_WSCS