Netflix: Why Are Investors Hitting the Pause Button?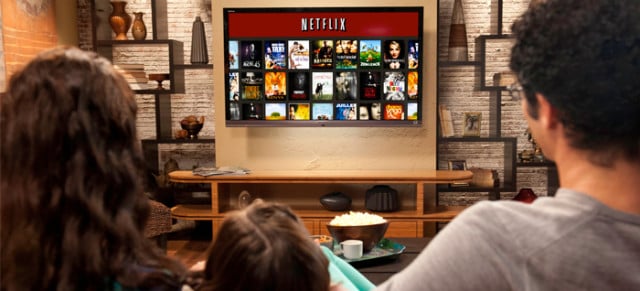 Netflix (NASDAQ:NFLX) recently announced better-than-expected results for the third quarter, but shares are hitting the pause button as the company's chief executive officer warns investors about irrational exuberance.
Net income for the three months ended September 30 totaled $32 million (52 cents per share), compared to only $8 million (13 cents per share) a year earlier. Meanwhile, revenue surged 22 percent, from $905 million to $1.1 billion. On average, Wall Street expected earnings of 47 cents per share.
In the United States, Netflix now has more subscribers than Time Warner's (NYSE:TWX) HBO. "We are very pleased to have over 40 million members, up from less than 30 million just one year ago," said Reed Hastings, Netflix's CEO, in a letter to shareholders. "The Netflix original series Orange is the New Black is a critical and popular success, and our earlier series House of Cards is the first Internet TV series to win a Primetime Emmy Award. We launched our 41st country and the Dutch seem to like Netflix."
Netflix has about 31 million members in the U.S., while HBO has nearly 29 million.
After the quarterly results, shares of Netflix surged more than 10 percent to reach a new all-time high of $389. However, shares turned negative during Tuesday trading as investors pondered a warning in the quarterly letter.
"In calendar year 2003 we were the highest performing stock on Nasdaq," Hastings said. "We had solid results compounded by momentum-investor-fueled euphoria. Some of the euphoria today feels like 2003." When asked about the statement, Hastings reiterated in the earnings interview that momentum investors are influencing the stock price more than normal, and he wanted to "honestly reflect on that."
As the chart below shows, Netflix shares exploded from only $3 in October 2002 to $39 in early 2004. Shortly thereafter, shares collapsed back to single digits before making another breathtaking move. Shares eventually hit $300 in 2011 but crashed to $55 last year. In 2013, Netflix has been the best performer in the S&P 500.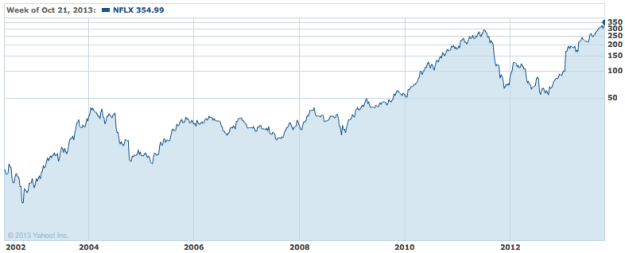 Shares of Netflix have more than tripled this year, but closed 9.2 percent lower on Tuesday, at $322.52, as investors take some money off the table. Netflix was also downgraded by S&P Capital IQ from Hold to Sell. In comparison, the S&P 500 and Nasdaq are up 23 percent and 30 percent year to date, respectively.
Don't Miss: Are the Super Rich Still Buying Stocks?
Follow Eric on Twitter @Mr_Eric_WSCS