New Apple Job Listings Bolster Rumors of an iTunes Overhaul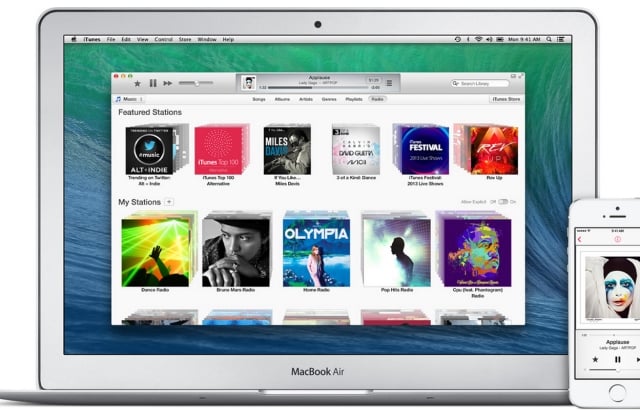 More evidence that suggests Apple (NASDAQ:AAPL) is preparing to overhaul the way that its iTunes Music Store and iTunes Radio operates has emerged. Several recently posted Apple job listings spotted by 9to5Mac revealed that the Cupertino-based company is looking for an iOS Senior Software Engineer for iTunes Radio, an iTunes Recommendations Platform Software Engineer, and an iTunes Software Engineer.
The job descriptions found in each job posting suggests that Apple is looking to revamp its music services. For example, the iTunes Software Engineer job description stated that Apple "is looking for a software engineer to help build innovative features" for iTunes. The job listings also align with several recent reports from Billboard that indicated Apple is considering implementing major changes in its iTunes services due to the overall decline in digital download sales.
Apple launched iTunes Radio last September as a competitor to ad-supported services like Pandora (NYSE:P). However, iTunes Radio has failed to boost Apple's overall declining digital music sales. According to unnamed label executives cited by Billboard, only 1 to 2 percent of iTunes Radio users opt to buy music through the music streaming service. The "iTunes Radio hasn't solved the problem of refreshing the iTunes store," one record label executive told Billboard.
Meanwhile, the popularity of subscription music streaming services such as Spotify continues to grow. According to the latest Nielsen SoundScan data cited by Billboard, digital track sales have slipped 11 percent and U.S. digital album sales are down 13 percent compared to the same time last year. Apple has historically dominated the digital download market and the consumer shift to streaming has undermined the company's usual music revenue source.
Billboard's sources suggested that Apple is still trying to figure out how to revamp its approach to music sales. One possibility is that Apple will launch an on-demand streaming service modeled after Spotify or the recently launched Beats Music. Another approach is to secure more exclusive content deals. According to "music executives familiar with the conversations" cited by Billboard, the success of Beyoncé's "windowed" album launch on iTunes has Apple seeking similar deals from other artists.
Other sources cited by Billboard indicated that Apple is considering the possibility of creating an iTunes app for Android. Google's (NASDAQ:GOOG) open source mobile operating system is found on the majority of the world's smartphones and an official iTunes app for Android could greatly expand Apple's iTunes customer base. Although the Google Play app store already features several iTunes apps, they are only offered by unofficial third-party developers.
Other rumors have suggested that Apple is planning on introducing a higher quality audio format in order to set its music service apart from the competition. According to an unnamed source cited by music blogger Robert Hutton, Apple will introduce hi-res, 24-bit audio files in June – possibly at WWDC 2014 — when it debuts three remastered Led Zeppelin songs in hi-res quality.
Follow Nathanael on Twitter (@ArnoldEtan_WSCS)
More From Wall St. Cheat Sheet: