New Chromebooks Are Coming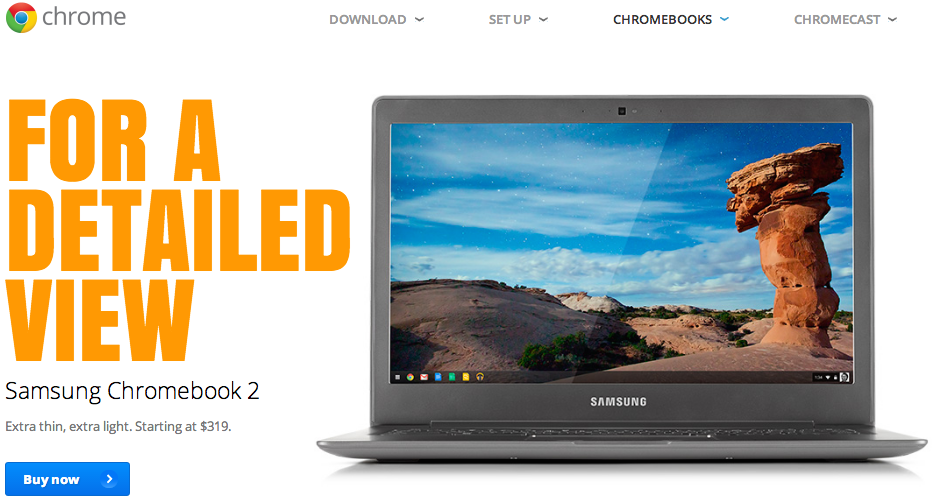 Google (NASDAQ:GOOG) (NASDAQ:GOOGL), Intel (NASDAQ:INTC), and several computer companies made a deal that will continue the Chromebook legacy. The netbooks and laptops powered by Intel — with Google operating system software — have gained a new generation with this deal. It currently offers an alternative to the Windows, Mac, or Linux options for operating systems. Details became public Tuesday.
Chromebooks' upcoming generation will be powered by Intel's Celeron "Bay Trail-M" system-on-chip. Intel introduced this technology last year. This technology is based on a high performance computer chip that does not require much power, making it ideal for portable devices such as smartphones, tablets, and portable computers like the Chromebook. The Register reports that some models of the latest generation may have a battery life up to 11 hours. The chips then use the Chrome OS operating system, making it an officially member of the Chromebook family.
The Chromebook has been growing in popularity thanks to its unique features and wide variety of price points. It starts as low as $199, making it more affordable than some tablet options out there like the iPad and competitive with others like the Kindle Fire HDX. This end of the price range provides some serious competition for tablets, especially higher end ones like the iPad, as the price for one of these tablets can get a consumer an entire computer. Since the tablet market is already highly competitive due to more products in the marketplace, a cross-platform competitor is only going to make it even more so.
While it is priced like tablets, in use Chromebooks are more like the MacBook Air or a netbook in that it offers no disk drive, a trend that seems to be growing among the upcoming generation of devices. Many of these Chromebooks are designed to be portable and used with other Google products. Most Chromebooks come with an offer from Google for extra storage on Google Drive, Google's storage cloud.
While no prices for the new models of Chromebook are available yet, previous offerings have ranged from cheaper than a tablet at $199 to more than $1,200, making a MacBook Air or even a lower-end MacBook Pro look cheap by comparison. The new products will be in the 11- to 13-inch range, similar to the previous generation, making it larger than a netbook and right about the size of a MacBook Pro.
The new technology across the board includes some familiar computer manufacturers like Acer and HP adding to their Chromebook lines. Chinese computer company Lenovo will join the Chromebook lineup with two laptops, marking its entry into the Chromebook market.
These new products will make its arrival in the American market this season, starting with the LG Chromebase on Memorial Day and the newest HP Chromebook in June. Others will arrive on the market later this year.
More From Wall St. Cheat Sheet: