News Radio Arrives on Apple's iTunes Radio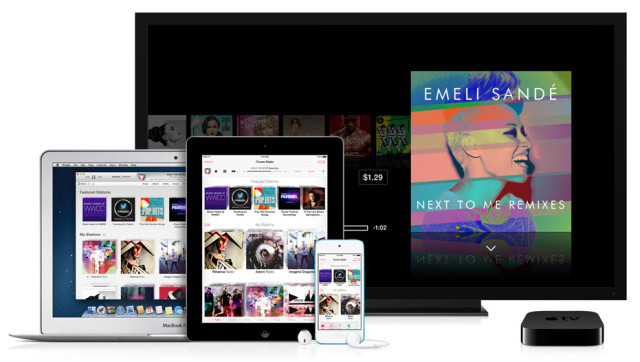 Apple's (NASDAQ:AAPL) iTunes Radio will get its first news station on Monday when National Public Radio joins Apple's streaming radio service, reports ReCode. According to ReCode's report, the NPR stream will include prerecorded segments like "The Diane Rehm Show" and "All Things Considered," as well as live news broadcasts. NPR officials also told ReCode that NPR's local affiliates will likely soon begin offering local versions of NPR too.
The inclusion of NPR on iTunes Radio will likely benefit both the radio broadcaster and Apple. "The public radio audience is very digital savvy, but there are certainly some of the millennials and other folks who are looking for their listening experience exclusively on digital, so we want to reach them wherever they are," NPR vice president of digital media Zach Brand told ReCode. Although the NPR executive declined to provide details of the non-profit organization's deal with Apple, he noted that, "Apple has been very understanding of the business model and the connection that public radio has with their audience."
Apple's iTunes Radio launched last September as part of iOS 7. The music-streaming service provided another way for the Apple to promote its digital download sales, as well as compete with other online radio networks, such as Pandora (NYSE:P). According to Apple CFO Peter Oppenheimer,  iTunes Radio gained more than 20 million unique listeners in the first several weeks after it launched. Earlier this month, data from Statista showed that Apple's iTunes Radio surpassed Spotify to become the third most popular music streaming service in the U.S.
However, despite its rapid adoption among Apple users, iTunes Radio has failed to make a substantial dent in Pandora's well-established user base. Court documents from a recently settled royalty rate dispute between Pandora and the American Society of Composers, Authors, and Publishers (ASCAP) revealed that Apple's music-streaming service has not had a significant, lasting impact on Pandora's user base. "Pandora has continued to grow despite the presence of iTunes Radio," noted U.S. District Judge Denise Cote.
Meanwhile, digital download sales continue to decline as subscription music streaming services become increasingly popular. According to the latest Nielsen SoundScan data cited by Billboard, digital track sales have slipped 11 percent and U.S. digital album sales are down 13 percent compared to the same time last year. However, Apple may soon jump on the subscription music bandwagon. According to unnamed sources cited by Billboard, Apple is currently in talks with various record labels about the possibility of starting an on-demand streaming service modeled after Spotify.
Apple's iTunes Radio is primarily offered as an ad-supported service, although users who subscribe to the company's cloud-based iTunes Match service can get an ad-free version of iTunes Radio. However, it is unclear if the proposed subscription service would replace the current version of iTunes Radio or be offered as a separate service.
Follow Nathanael on Twitter (@ArnoldEtan_WSCS)
More From Wall St. Cheat Sheet: