Nightly Netflix Traffic Puts YouTube to Bed
Netflix (NASDAQ:NFLX) has more than 36 million subscribers worldwide that watch approximately 4 billion hours of content per quarter on more than 1,000 different devices. When projected onto a chart, the line representing the viewing habits of the company's 29.2 million U.S. subscribers looks like a boa constrictor that has just ingested its prey.
On an average weeknight, Netflix accounts for almost a third of all Internet traffic entering North American homes, which is more than Google's (NASDAQ:GOOG) YouTube, Comcast's (NASDAQ:CMCSA) Hulu, Time Warner's (NYSE:TWX) HBO Go, Apple's (NASDAQ:AAPL) iTunes, and Bit Torrent combined. At 10 p.m. in each different time zone, traffic to Netflix peaks and by midnight Pacific time, streaming volume drops off significantly.
For the past three years, Netflix has accounted for a third of all nightly Internet traffic in North America, according to Sandvine, a broadband service company that tracks Internet usage.
The company's most recent numbers — released Tuesday morning — showed that Netflix's position at the top of the rankings remained solid in the last quarter. The streaming-video provider's share of prime-time "downstream" traffic delivered over "fixed networks" was 32.3 percent, just a fraction lower than its estimated 33 percent share that Sandvine calculated last November.
In comparison, Sandvine said that the share of Internet traffic routed through Amazon (NASDAQ:AMZN) and HBO held fairly steady. Amazon dropped from 1.75 percent to 1.31 percent, while HBO dropped from 0.5 percent to 0.34 percent, but that movement was not enough to affect rankings.
The only service to experience a gain was Hulu, which rose from 1.1 percent to 2.41 percent. Sandvine researcher Dan Deeth noted that this increase was likely due to the way in which Hulu gets new content. The numbers included in the most recent report were collected in the first two weeks of March, meaning Hulu would have benefited from new programming that ran during February. The numbers collected last fall came before Hulu gained access to the new TV shows provided by its owners. Netflix received a similar boost from the surge of viewers related to its February release of "House of Cards."
However, Netflix only dominates video streaming from fixed access points, which includes data transmitted from home networks, via Wi-Fi, to tablets and smartphones. "Home roaming," as these numbers are categorized, accounted for 20 percent of all traffic, an increase from 9 percent last year. Sandvine also tracks streaming traffic to mobile devices over wireless networks, and here, Netflix took its share of downstream traffic to 4 percent from 2.2 percent in the past 12 months. But YouTube still dominated that category.
While Netflix does not yet account for the largest share of online video streaming from mobile access points, its dominance in the fixed access segment shows that users are streaming more of the company's content than ever before. The streaming-video provider added more than 2 million users since Sandvine's last measurement, but its competitors have also grown, meaning its lead on the market is static.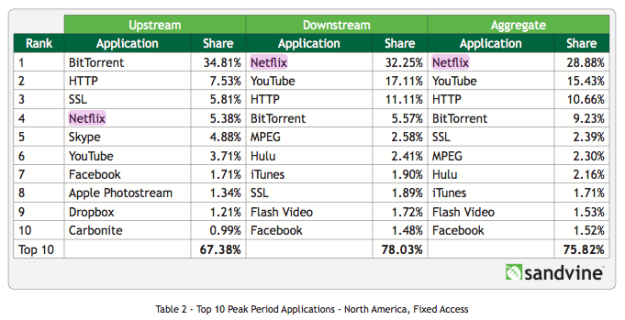 You can follow Meghan on Twitter (@MFoley_WSCS) for the latest industry news.
Investing Insights: Is DirecTV Unstoppable?