No Surprises: Apple's Second-Quarter Showcases Growth Problems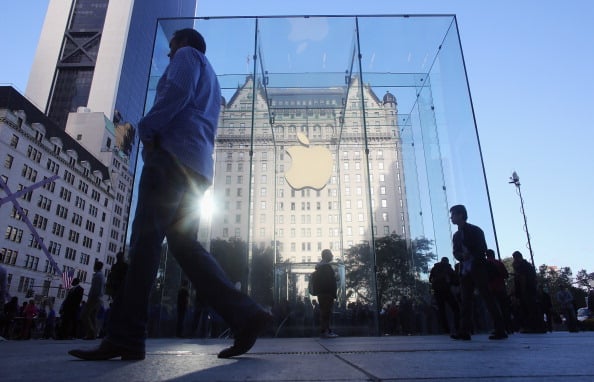 Apple's (NASDAQ:AAPL) more than 10-year-long growth streak is beginning to slow.
"We're very proud of our quarterly results, especially our strong iPhone sales and record revenue from services," Apple CEO Tim Cook said in the company's second-quarter earnings report. "We're eagerly looking forward to introducing more new products and services that only Apple could bring to market." In the three months ended March 29, the iPhone maker generated $45.6 billion in sales and earned $10.2 billion, or $11.62 per diluted share, up from the $43.6 billion in revenue and $9.5 billion in profit the company recorded in the year-ago quarter.
However, saying that results beat expectations, which they did, would suggest that Wall Street was happy with the results — but even though Apple did not record the year-over-year decline in revenue that some analysts feared, that is not the case, as sales of iPhones and iPads slowed in the first three months of the year. While longtime Apple watchers know that a quarterly earnings report is no time to announce new products, the fact remains that it has been four years since Apple introduced a major new device. The company said it will break into new product categories in 2014, and shareholders want to see that the iPhone maker has not lost its innovative touch. That concern has overshadowed earnings reports for several consecutive quarters. For investors, what Apple does next is most important.
Indicative of how confident people are in the Apple earnings machine is the company's stock price: Shares have dipped 5.2 percent so far this year and stand 24 percent below their all-time high, reached in September 2012. "There's incredible potential but how long can you wait?" Michael Obuchowski, Merlin Asset Management's chief investment officer, told Fortune before earnings were released. "I'm getting to the level of frustration that I don't know how much longer I'll be holding on to that company."
Ahead of the release of Apple's earnings report, Wall Street and many technology industry analysts held low expectations: flat revenues, minimal earnings growth thanks only to share buybacks, a small increase in iPhone sales offset by a decrease in iPad sales. After several consecutive quarters of earnings disappointments, the growing saturation of the smartphone market, and the lack new, market-changing product releases from Apple, Wall Street believes the only place the company has to move is sideways.
Three months ago, when Apple released its first-quarter results, the company's stock plummeted by $50 over the next few days. That quarter, the company was poised to record its first increase in quarterly profits in more than a year, and investors were waiting to see whether it was able to return to profitability in the December quarter. Apple did beat Wall Street's top and bottom line expectations. In the first fiscal quarter, iPhone sales hit a record: the 51 million phones sold in the period were the most Apple has ever sold in any quarter, surpassing the 47.8 million sold in the year-ago quarter. Those strong sales help the company post strong earnings and profit numbers. Yet investors were concerned by the low number of iPhones sales.
Even though Apple upset tradition and released two versions of its flagship smartphone — the iPhone 5S with Apple Touch ID and the low-cost iPhone 5C with a colored polycarbonate shell — the sales numbers missed expectations. That suggested to investors that the iPhone has little room to keep growing. Since its introduction in 2007, the iPhone has pursued an upward trajectory that has left onetime stars like BlackBerry (NASDAQ:BBRY), Motorola, and Nokia (NYSE:NOK) in the dust. But now, the high-end smartphone market is becoming saturated, impressive technological advancements are becoming harder to come by, and investors worry that Apple's time at the top of the market is nearing its end.
But what really worried Apple shareholders — what knocked  $45 billion off the iPhone maker's market capitalization — was the company's guidance for the quarter, reported Wednesday. While not as bad as expected, the results showed cracks in Apple's earning ability. That iPhone sales would plateau was always an inescapable reality. "If Apple grew the next five years like it did the previous five years, it would be approaching the GDP of Australia," Sanford C. Bernstein analyst Toni Sacconaghi told The New York Times."Psychologically, it's more the issue that here is this incredibly high-flying company two years ago growing at 50 percent or more."
Beyond Apple's perceived innovation problems, the more immediate concern is whether the company will even be able to achieve modest growth. In the past quarter, iPad sales reached 16.35 million, down from the 19.5 million sold in the year-ago quarter. That represents a much quicker slowdown than anticipated, and much cheaper tablets on the market, like Amazon's (NASDAQ:AMZN) Kindle Fires, likely contributed to the decline. And even though iPhone sales climbed by 6 million to 37.4 million, smartphone sales are beginning to slow across the industry.
In lieu of strong sales figures, Apple resorted to other means to appease shareholders. The company announced it will repurchase an additional $30 billion worth of its stock on top of the $60 billion announced last year, as well as increase its quarterly dividend by 8 cents. In an earnings conference call with analysts, Cook said the repurchasing increase was "a signal of the board and management team's strong confidence in the future of Apple." Investors responded to Apple's moves with some enthusiasm, bidding shares up as much as 8 percent in after-hours trading.
More From Wall St. Cheat Sheet:
Follow Meghan on Twitter @MFoley_WSCS