Nokia-Android Partnership: How Does Microsoft Feel About That?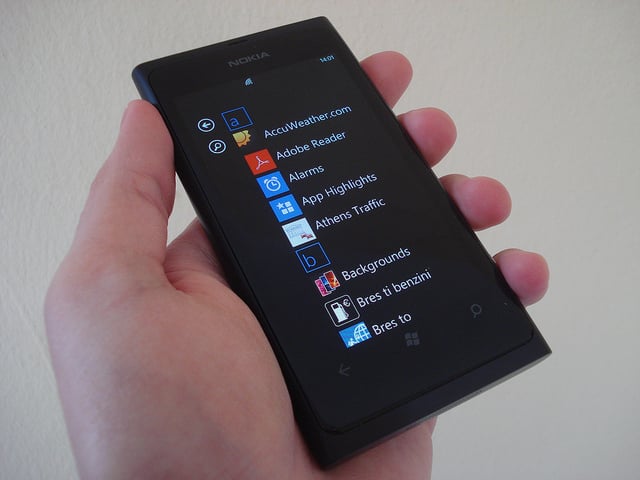 Nokia (NYSE:NOK) has announced that it's launching a line of Android-powered phones to sell in China and other developing nations under the new "Nokia X" brand, just as the company's deal to sell its handset unit to Microsoft (NASDAQ:MSFT) is set to close. The company made the announcement at the Mobile World Conference in Barcelona on Monday.
"Nokia has connected billions of people around the world, and today we demonstrated how our portfolio is designed to connect the next billion people to great experiences," said current Nokia CEO Stephen Elop in a press release. Elop will begin working at Microsoft once the handset acquisition is complete.
Earlier this month, an anonymous source told the Wall Street Journal that Nokia would release a device running on Google's (NASDAQ:GOOG) Android operating system by the end of the month. Reports that Nokia was working on an Android-powered device first came out back in September when the $7.2 billion Microsoft acquisition was announced. Nokia had the option to exit the Microsoft partnership at the end of 2014, and a New York Times report revealed that Nokia was building phones running on Android to prepare for that exit, or possibly to intimidate Microsoft by reminding the company that Nokia could easily switch platforms to a competitor.
Microsoft purchased Nokia's smartphone division in order to have more control over the Nokia Lumia line of smartphones, which run on Microsoft's Windows Phone operating system. Microsoft has suffered in recent years due to not getting on the smartphone bandwagon soon enough and losing out to competitors including Google and Apple (NASDAQ:AAPL). Former CEO Steve Ballmer has said that those smartphone missteps are his biggest regret in regards to his time at Microsoft and now the company is hoping that new CEO Satya Nadella can turn its fortunes around.
Nokia is trying to spin the Android partnership as a way to get Microsoft services into the hands of consumers in developing nations who may not be able to afford a higher-end smartphone. "The Nokia X, Nokia X+ and Nokia XL are priced to capture the fast-growing affordable smartphone market and provide an on-ramp to Lumia and Microsoft services like Skype, OneDrive, and Outlook.com," the company said in a press release.
In a blog post, Microsoft executive Frank Shaw said that the company is glad that more consumers will get access to Microsoft products, but also noted that the companies are required to act as independent entities until the deal closes. "We're pleased to see Microsoft services like Skype, OneDrive, and Outlook.com being introduced on these devices," Shaw said, but also noted, "our primary smartphone strategy remains Windows Phone, and our core device platform for developers is the Windows platform."
The phones will run on an altered version of Android similar to the OS used by Amazon (NASDAQ:AMZN) in its Kindle tablets. The version of Android in the Nokia X, X+, and XL will replace some of Android's apps and the Google Play Store with competing apps from Nokia and Microsoft.
Google and Microsoft are enemies and this project doesn't make Microsoft very happy. In fact, Microsoft will have the power to cancel the venture completely once the acquisition is complete. During a press conference at MWC, Microsoft's vice president of the Windows Phone Joe Belfiore said, "They'll do some things we're excited about, and some things we're less excited about," when asked about the Nokia-Android partnership.
Unfortunately, recent research has suggested that the smartphone market in developed countries will continue to be dominated by Apple and Samsung (SSNLF.PK) for the foreseeable future. Many are skeptical that Microsoft will be able to carve out even a tiny chunk of market share despite small gains made by the Lumia device. Nokia's fourth-quarter earnings showed that revenue for the smartphone unit dropped 29 percent year-over-year despite the fact that the company sold 30 million phones during 2013, almost twice as many as it sold in 2012.
China and other emerging markets are the final frontier of major growth for the smartphone industry. As the smartphone market becomes increasingly saturated, everyone who wants a smartphone will have one and the only growth opportunity will be from replacement. If these Android-powered Nokia phones manage to gain a foothold in the face of Chinese-made Android competitors, then the partnership with arch-rival Google could be beneficial for Microsoft.
More From Wall St. Cheat Sheet:
Follow Jacqueline on Twitter @Jacqui_WSCS