Nokia Branding VP Quits and 2 More Heavily Traded Stocks to Follow
Nokia Corporation (NYSE:NOK): Current price $3.25
Vice President, Global Branding and Marketing Strategy, 
Steven Overman has exited Nokia. Overman was responsible for drafting the definitive accord with Microsoft, and was also charged with the marketing campaigns for Lumia and Asha devices. He had joined Nokia in 2010 from Lowe Worldwide, where he headed the marketing team handling Nokia.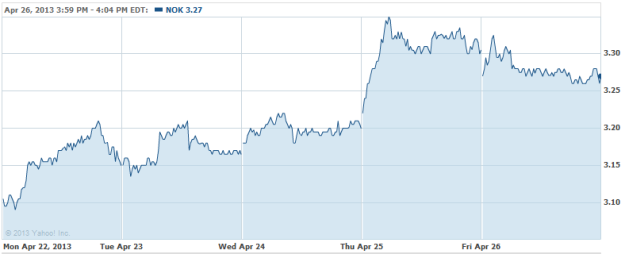 Bank of America Corporation (NYSE:BAC): Current price $12.42
The Wall Street bank is reportedly offering 1.06 billion euros worth of bonds backed by a loan used to purchase apartment buildings in Germany, in the first public deal the sort in Europe in 2013. The bond transaction is backed by a debt raised by WOBA Dresden GmbH, which is a division of Gagfah, according to a knowledgeable individual. Gagfah is owned by Fortress Investment Group, which is a private-equity and hedge-fund manager based in New York.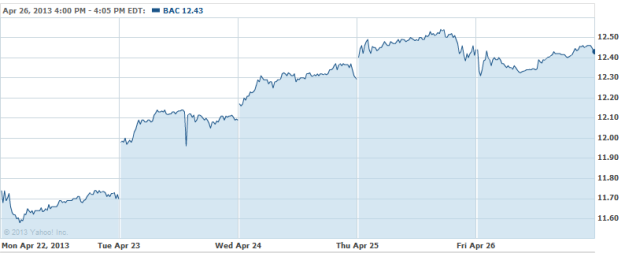 Hewlett-Packard Co. (NYSE:HPQ): Current price $19.97
Last week, Hewlett-Packard published a list of the 195 smelters which provide materials employed in the production of its computers and other electronics, representing the first such disclosure in the company's history reaching back 74 years. HP makes the undisputed claim to be the only information-technology company to do this. It is at the smelting stage that some of the most egregious labor violations and corrupt business activity can occur, and HP says that greater visibility into and pressure on the smelters could induce them to move to conflict-free minerals.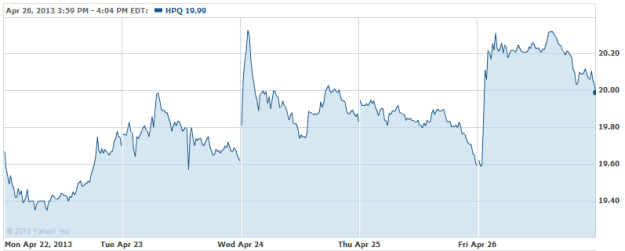 Don't Miss: Why is Apple's iPhone Selling at a Snail's Pace?