Nokia Earnings Broach the Lumia Question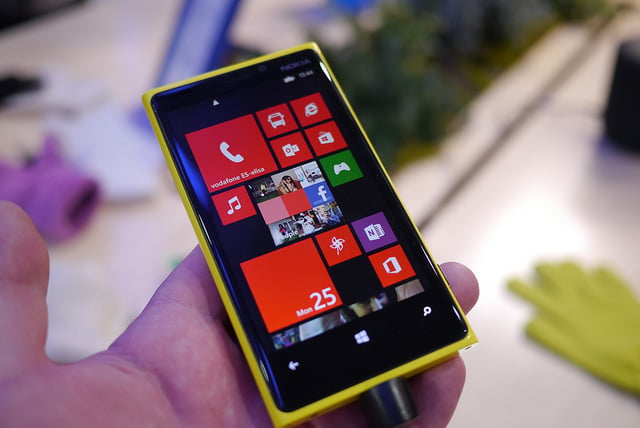 The smartphone industry has heard rumors — very tentative rumors — that partnership between Microsoft's (NASDAQ:MSFT) Windows Phone mobile platform and Nokia's (NYSE:NOK) Lumia handset has begun to gain on the competitive smartphone industry dominated by Samsung (SSNLF.PK) and Apple (NASDAQ:AAPL). Evidence that the market may have room for a device that is not powered by Google's (NASDAQ:GOOG) Android or Apple's iOS was delivered in the third-quarter by the research firm Gartner, whose summary of the smartphone industry noted that "the winner of this quarter is Microsoft, which grew 123 percent."
The news release further explained that Microsoft acquisition of Nokia's devices and services business will serve to "unify effort and help drive appeal of Windows ecosystem." But the Windows Phone-powered Lumia has to make up a lot of ground before it can be considered a true contender for the smartphone crown. The fact that Android surpassed 80 percent market share in the third-quarter of 2013 confirms that reality, as did Nokia's fourth-quarter earnings, which showed a sales decline in its soon-to-be-sold handset business. For Microsoft, that drop is a worrying sign.
On Thursday, Nokia reported that its overall business suffered a net loss of 25 million euros, or $34 million, in the last three months of the year. For Nokia investors, and by extension Microsoft investors, there are two key sides to the Finnish company's business: its device business, which will is expected to be incorporated into Microsoft later in the current quarter, and the remaining wireless network business.
Nokia's handset unit, which is now considered discontinued operations, reported fourth-quarter revenue of 2.63 billion euros, or $3.59 billion, a 29 percent drop from the year-ago quarter and a decrease of 4.5 percent from the previous quarter. While exact quarterly sales numbers for its handsets were not release, the company explained that the revenue decline was due to lower shipping figures for both its smartphones and more basic mobile phones. The poor smartphone sales were attributed to the "strong momentum of competing smartphone platforms" and the difficult transition from its old Symbian-based devices to the Windows-powered Lumia line. Nokia did say that it sold 30 million Lumia handsets throughout 2013, about twice as many as in 2012. But still, that number pales in comparison to the sales figures  of its mightier competitors.
Meanwhile, revenue generated by the company's Solutions & Networks unit — which will account for 90 percent of Nokia's total revenue after the sale of the handset unit is closed — totaled 3.1 billion euros, or $4.23 billion, a 22 percent decline from a year ago. In preparation for the moment when the unit becomes practically the sole driver of Nokia earnings, NSN has narrowed its focus, selling off businesses like optical networks to focus solely on mobile broadband equipment, and these divestments are partly responsible for the fourth-quarter drop.
"The fourth-quarter of 2013 was a watershed moment in Nokia's history," proclaimed the company's Chair and acting Chief Executive Officer Risto Siilasmaa in the fourth-quarter press release. "Having received overwhelmingly strong support from our shareholders at our extraordinary general meeting in November for the sale of our phones business to Microsoft, we are diligently working towards defining Nokia's future direction. I am pleased with the progress we have made thus far in our strategy evaluation," he continued. "While the first-quarter of the year is seasonally weak for our continuing operations, we continue to expect the closing of the Microsoft transaction to significantly improve Nokia's earnings profile."
Microsoft and Nokia — two companies whose mobile futures were already deeply intertwined — announced their plan to combine forces in September; the maker of the Windows operating system will purchase substantially all of Nokia's Devices & Services business, license the company's patents, and license and use its mapping services for 5.44 billion euros, or about $7.2 billion.
For Microsoft, it was a clear bid to accelerate the its growth into mobile computing, a transformation that has largely left the company lagging behind. Personal computers once dominated the technology sector, but now consumers spend more time using their mobile devices to watch videos, shop, and communicate with friends and family. The mobile revolution has forged winners, like Apple, and forced other market players to play catch up after having failing to adapt quickly enough to the changes. Those companies include PC-software pioneer Microsoft and Nokia, which was a leader in early cellphone design until Apple's introduction of the iPhone in 2007 shook up the technology world.
When Nokia began to lose market share, the handset manufacturer realized it was time for a change. The company's dilemma were most accurately summarized two years ago by then Chief Executive Officer Stephen Elop. In an internal memo written more than two years ago, he likened the company to a man working on a burning oil platform in the middle of the North Sea, whose situation presented a Catch-22: he could either risk death on the "burning platform" or plunge into the freezing water, a move that could save him. Elop chose to form a partnership with Microsoft, which was looking for an ally for its new smartphone software.
Nokia picked Microsoft's Windows Phone mobile operating software over Google's Android, a deal that made both companies deeply dependent on each other for their mobile future. Nokia agreed to only use Windows Phone to power its smartphones, while Microsoft pledged to spend billions of dollars on marketing and engineering assistance.
It will be a tough, if not impossible, climb up the smartphone ladder for the Lumia — the smartphone built by handset manufacturer Nokia and operating Microsoft's Windows mobile operating system. Apple's iPhone and devices running Google's Android platform dominate the $300 billion smartphone industry; with an overall market share of less than 5 percent in the third-quarter, according to research firm Gartner, Microsoft's Windows Phone sells far fewer units that the market leaders. Even though shipments of Windows Phone grew 123 percent year over year and the likelihood that inclusion of Nokia's devices business into Microsoft will make the Lumia a stronger competitor, the union is of no great concern for Google or Apple. Currently, Nokia does not even rank among the top global handset manufacturers, and it is clear from the company's fourth-quarter results that its Lumia smartphones have so far failed to draw business away from its larger competitors.
After earnings were released, Nokia investors — who bid shares of the handset manufacturer up more than 110 percent in 2013, reacted negatively to the low sales numbers and net loss, pushing shares down as much as 9.87 percent to $6.94 during early morning trading on Thursday.
More From Wall St. Cheat Sheet:
Follow Meghan on Twitter @MFoley_WSCS