Nokia: Is Court Offense the Best Defense Against Sagging Sales?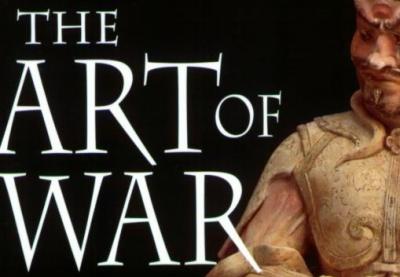 While Samsung (SSNLF.PK) and Apple (NASDAQ:AAPL) continue to fight their epic patent war in courts around the world, Nokia (NYSE:NOK) and HTC have been waging a similar, albeit smaller, litigious battle of their own. Nokia and HTC may have lost the battle for a place on the list of top five smartphone makers, but that apparently does not lessen their enthusiasm for trying to see who can win the most court battles.
According to the Wall Street Journal, Nokia won a preliminary injunction on Monday that prevented microphone supplier STMicroelectronics (NYSE:STM) from being able to sell its microphones to HTC. The injunction was granted based on an exclusivity agreement that the French-Italian multinational had previously signed with Nokia.
It did not take long for HTC to respond with its own court victory. The following day a German court threw out Nokia's patent infringement claim against the Taiwan-based company. The patent in dispute was regarding "a communication network terminal for accessing Internet" according to patent papers available on Espacenet.
The smartphone-makers' courtroom drama is far from over. Nokia currently has thirty more patent suits in various stages of litigation in courts in Europe and America. However, will Nokia's targeted court offensive even adversely affect the Taiwanese phone maker? Barclays (NYSE:BCS) analyst Dale Gai doesn't think so. Via the Wall Street Journal, Gai points out that microphones are an easily substituted "commodity component." Therefore, Nokia's injunction will barely affect HTC's production of its new One smartphone.
Although it is important for technology companies to protect their intellectual property and enforce their exclusivity agreements, one can not help but wonder if these two companies' energies would be put to better use trying to create value for their shareholders by figuring out how to regain their lost market share.
Last year Nokia and HTC held the third and fourth places for worldwide shipments of smartphones. However, according to the latest IDC data, both phone makers have been overtaken by two Chinese upstart firms; ZTE and Huawei. Samsung and Apple have maintained their positions as the top two smartphone makers, while South Korean phone maker LG has taken a distant third place.
Nokia closed down 1.52 percent, or 0.05 cents, at $3.25 on Friday. The chart below outlines Nokia's stock movement throughout the week.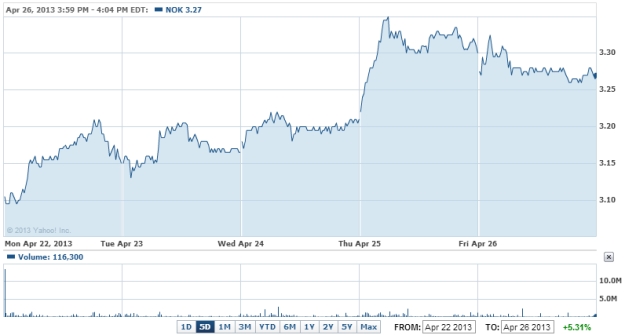 Don't Miss: Will This Ad Make You Buy an iPhone?