Oracle Takes More Potshots At IBM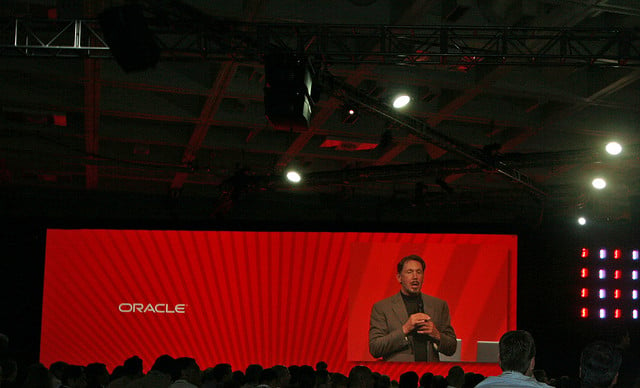 Oracle (NASDAQ:ORCL) has indulged in its favorite past time of pointing out rival International Business Machine's (NYSE:IBM) flaws on Thursday, publishing a press release in the wake of IBM's earnings report announcing that Oracle's software business has pushed past IBM's to become the second biggest in the world.
IBM's poor software performance in the quarter mean it now operates the third-largest software business, according to Oracle. For the company's last four quarters, Oracle has posted a software revenue of $27.8 billion, while IBM has posted a software revenue of $25.7 billion over its last four quarters. "We will continue to develop innovative software products and related cloud services in pursuit of becoming number one," said Oracle President and Chief Financial Officer Safra Catz in the release.
Oracle has gotten in trouble for being aggressive with IBM in the past. The National Advertising Division has chastised Oracle for its misleading anti-IBM ads on multiple occasions, and back in August the group asked the Federal Trade Commission to get involved after the NAD received its fourth set of complaints from IBM about Oracle's ads. The organization said at the time, "The advertising in question features the same stark, overbroad IBM-versus-Oracle comparison that NAD recommended against in the three previous cases."
IBM revealed in its earnings report that it has had a difficult third quarter. Earnings rose to $3.99 a share, beating expectations, but the company fell short on revenue, dropping 4 percent to $23.72 billion versus expectations of $24.75 billion. This was the sixth consecutive drop in sales posted by IBM. IBM's hardware unit caused much of the declines, but its software revenue only grew by 1 percent compared to a 25 percent growth last year.
Oracle's own earnings results for the past few quarters have been good but not great, prompting some shareholders to call for a change in the company's pay packages for executives. Chief Executive Officer Larry Ellison in particular has come under fire, as investors believe he gets paid more than the company's performance warrants. Oracle executives have defended the pay packages, but they're likely to hear from some unhappy people at the company's shareholder meeting coming up on October 31.
Oracle won't report its next set of earnings until December 16.
Follow Jacqueline on Twitter @Jacqui_WSCS
Don't Miss: Can These Changes Convince People to Like Microsoft's Windows 8?