Outlook: New Disc-less Xbox One Could Affect GameStop Sales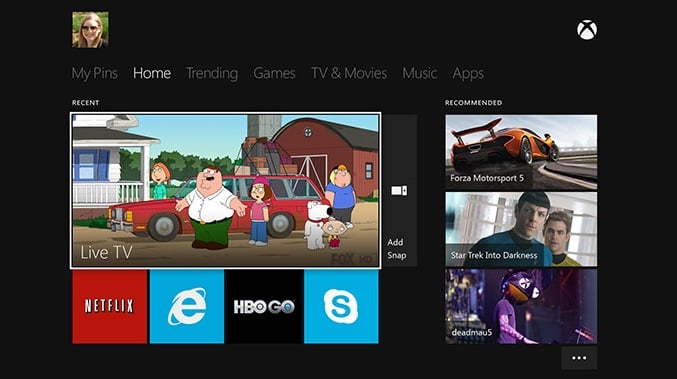 An article posted on Wednesday night on The Verge included a number of claims by a NeoGAF poster relating to Microsoft's (NASDAQ:MSFT) Xbox One plans in 2014. According to the article, Microsoft will release the first major Xbox One dashboard update in March. The timing was first disclosed in a post on the NeoGAF.com website, and later verified by The Verge. In addition, the post claimed that Microsoft will release a white version of the Xbox One in October (confirmed for a release this year by The Verge), and a 1 TB version of the Xbox One in November.
Currently, the white Xbox One is reportedly available exclusively to Microsoft employees who worked on the development of the console. The Verge article also included other Xbox One speculation from the post, including an Xbox One without a Blu-ray drive, a Bluetooth adapter, and worldwide launch dates. According to the article, The Verge has confirmed that Microsoft has been testing versions of the console without a Blu-ray drive. According to subsequent reports, the discless Xbox One would have a $399 price point, $100 below the current price of the Xbox One and in-line with Sony's PlayStation 4.
A disc-less Xbox One would essentially be a subsidized box. At a price of $399, Microsoft would be taking a $100 hit on Xbox One pricing, presumably to stimulate demand with the hope of making that lost $100 back by taking at least a portion of the retailer's share. The larger hard drive included in the console would likely cost Microsoft as much as it would save by eliminating the Blu-Ray drive.
In normal cases, physical Xbox One games are sold at retail for $60. The sale proceeds are split between the retailer (20 percent margin, or $12), Microsoft (a $10 royalty and $2 for manufacturing and packaging, or 20 percent combined), and the publisher (who gets the remaining $36). By cutting out the retailer, Microsoft would increase its 20 percent cut to 30 percent or so (an additional $6) and avoid the cost of manufacturing and packaging (an estimated $1.00), with the publisher receiving an additional $6. A disc-less Xbox One would result in Microsoft's taking a $100 lower profit on the hardware that it would hope to make back through the sale of 15 games or so, assuming incremental profit of $7 per discless game.
Although a $399 Xbox One would make the console price competitive with the PS4, we are skeptical that the new model would be popular. In our view, of the two $399 options, the PS4 would be the more popular as it would include a disc drive, giving the purchaser the option of trading in or selling his games when they choose. In addition, a disc-less box prevents the gamer from playing the disc-based games he has already purchased, limits portability, and decreases their ability to use his PowerUp Rewards credits.
We note that as of November, there were over 26 million domestic members in the program, and over 7 million international members, meaning that over 33 million gamers worldwide would likely prefer discs. We concede that there are some gamers not involved in the program who would opt for a $399 disc-less Xbox One over a $399 PS4 or a $499 Xbox One with a Blu-ray drive. We estimate that this percentage of the gaming population is likely under 5 percent. More importantly, we think this product has the potential to create consumer backlash against Microsoft as being gamer-unfriendly.
We are maintaining our GameStop (NYSE:GME) estimates for the time being as the disc-less Xbox One is currently just a possibility. We will revisit our estimates if the disc-less Xbox One is confirmed. Our initial read is that such a device would be incrementally positive to GameStop's hardware sales near-term, and a drain on software sales long-term; however, we do not view it as a compelling system for most core gamers, who would likely prefer to maintain the flexibility of buy/sell/trade.
Investment Thesis
We continue to believe that GameStop's core business will have a long tail. As long as physical video game products are produced, we expect GameStop to remain the market leader at retail, and we believe that the company's large used game business solidifies its relationship with a very large segment of the gaming population that values used games as currency to fund new game purchases. Given that next-generation consoles contain disc drives and there are no plans by the manufacturers to block used games, we think that GameStop has at least 10 years of runway left in its core business.
In the meantime, the company is leveraging its pre-eminent position in selling used game consoles by offering used smart phones, tablets, and other consumer electronics, and we expect substantial growth from this category over the next several years. GameStop management has consistently returned the company's free cash flow to investors, and we expect them to continue to do so, suggesting to us that EPS growth will continue for much of the next decade.
We are maintaining our OUTPERFORM rating and 12-month price target of $60. Our PT is based on 15x our FY:14 EPS estimate of $4.02. Although many quality retailers trade at 20x EPS, GME faces headwinds from digital and the impact of the next-gen console transition on current-gen sales.
Risks to attainment of our share price target include changes to game release timing, competition, supply of video game products, macroeconomic factors, and slower-than-expected consumer demand for video game hardware and software.
Michael Pachter is an analyst at Wedbush Securities. 
More From Wall St. Cheat Sheet: