Playful Apple Spoof Goes Viral
A European brewer's playful advertisement which spoofs Apple (NASDAQ:AAPL) stores and Apple consumers is becoming a popular viral video on YouTube. Denmark-based Carlsberg created the commercial to promote the sales of its Somersby cider drink, reports the Wall Street Journal. In a clever wordplay between the source of its beverage and the iconic technology company's name, Carlsberg promises its customers "less apps, more apples."
The setting of the advertisement video is in a store that resembles an Apple store on the day of a new product launch. In this case, the enthusiastic customers who are lined up outside the store are waiting for a chance to buy a Somersby cider.
At one point, a store employee fills a glass with cider, telling the customer that their product is "full of great content." Another employee demonstrates to a customer how to "interface" a glass of cider by lifting it towards their mouth. Yet another employee shows how a glass of Somersby fits in your hand, or a "normal docking system." Who knew there was so much pun crossover between cider drinking and technology products?
Apple closed at $423.20 on Friday after shedding $4.52, or 1.06 percent, from its price at the opening bell.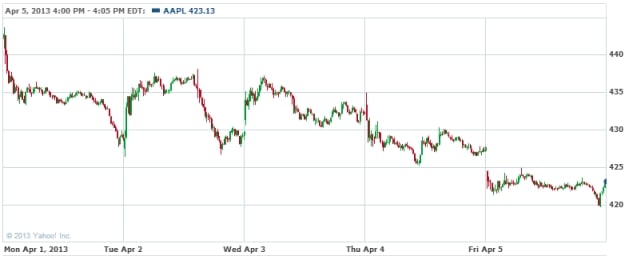 Don't Miss: Apple Grows While Android Slows.